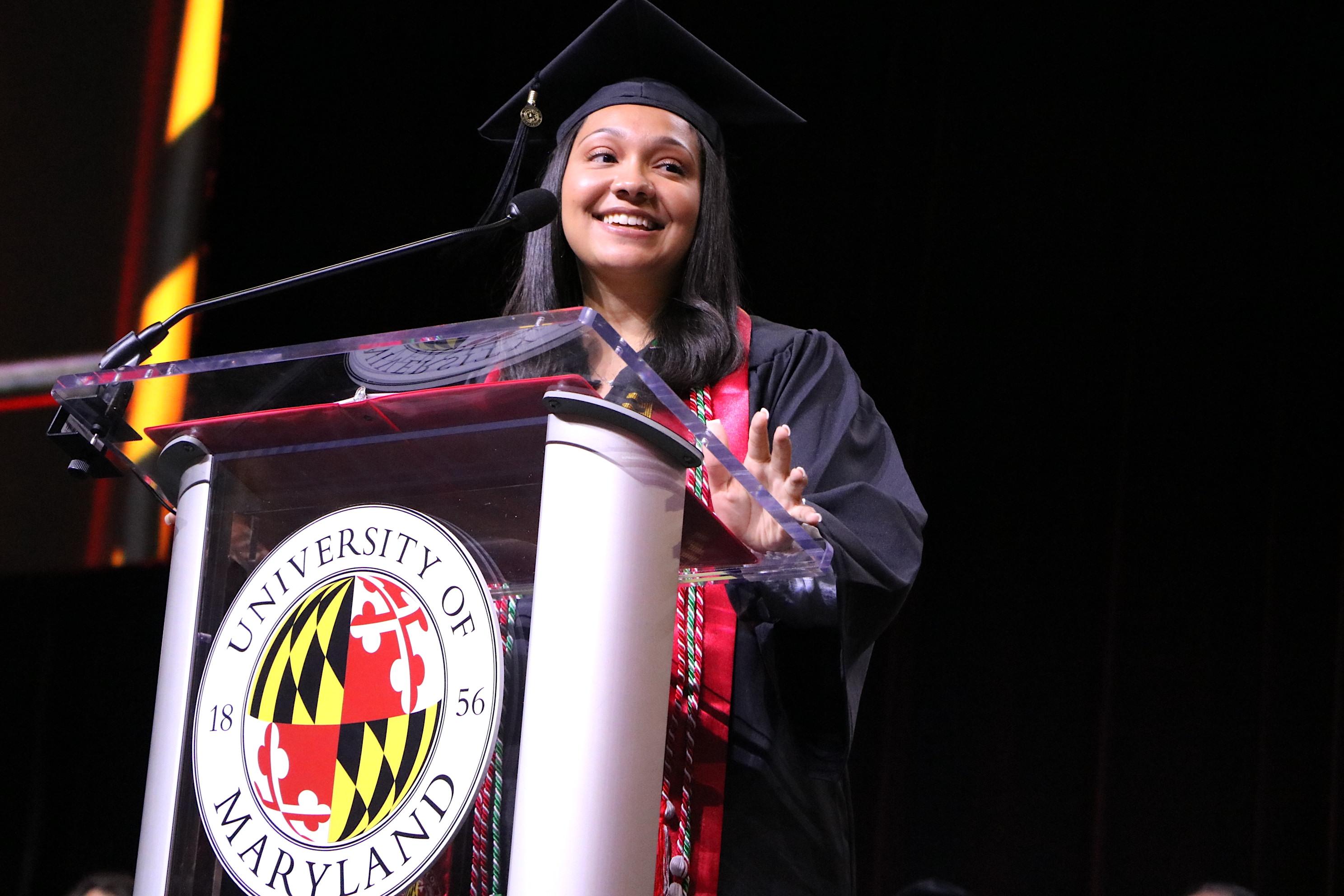 While she graduated with her bachelor's degree in public health science on May 23, 2023, Taliah Hodges has had little time to rest.
That's because she's gearing up for the final year of her accelerated BS+MPH program and preparing to become a teaching assistant for a foundational public health course.
Hodges recently shared how UMD faculty members inspire her, why she chose to pursue an accelerated dual public health degree and what it was like to speak on the stage at the Xfinity Center, before hundreds of graduates and their families, as the student commencement speaker. 
When did your interest in public health begin? 
As a freshman, I knew I was interested in the health sector but was unsure of career paths outside of medicine. I was initially undecided in my major, but I was introduced to public health during my first semester through the Global Public Health Scholars Program. I quickly learned about health disparities and social determinants of health in the program. As a first generation college student, obtaining higher education in another county shed light on the inequities in health and inequities in opportunities that I noticed in my hometown of Hagerstown, Maryland … My second semester, I declared public health as my major, and I have been passionate about it ever since! 
Why did you choose to enroll in the accelerated BS+MPH program? 
The program does an amazing job allowing students to learn about and explore many different sectors of the field … I wanted to dive deeper into a specific topic that I was interested in and gain specialized skills that would enhance my career as a future public health professional. I was eager to gain a better understanding of disease incidence and mortality and learn how strengthening the healthcare system in the U.S. can improve health outcomes and quality of life. 
The Global Fellows in D.C. program was one of the most pivotal programs throughout my undergraduate experience. After participating in the program, my confidence as an aspiring public health professional was through the roof. The most rewarding part was the community aspect and the genuine connections that I built. The staff of the program are amazing and genuinely care about each student's story and desired career path. 
How have UMD professors or mentors guided you as a student?
Dr. Sylvette La Touche-Howard and Dr. Donna Howard have both been extremely inspirational and supportive during my time at UMD. 
Shortly after declaring public health as my major, I enrolled in the SPHL100 course taught by Dr. La Touche-Howard. At the end of the semester, I was still a little unsure of the impact that I could have in the field, so I reached out to Dr. La Touche-Howard for advice. She did not hesitate to set up a call with me. She taught me that passion combined with dedication will take me far. She also motivated me to take a path that was unique to my interests and shared her own experiences to show me I have ample time to achieve my goals.
From the moment that I was accepted into the public health study abroad program in India, Dr. Donna Howard was beyond helpful and inspirational. Her passion for global health is strong and her positive energy is what is needed in this world. I could not have asked for a better mentor to travel with. Dr. Donna Howard showed me that even the smallest accomplishments in life are worth celebrating … She inspires me to dig deep and appreciate new things each and every day. 
What are you working on in your internship with the United States Agency for International Development (USAID)? 
I am an intern in the Bureau for Policy, Planning, and Learning (PPL) in the Office of Learning, Evaluation, and Research (LER) at USAID. I am working on coding the outcomes of various operating units' COVID-19 assistance programs abroad. Essentially, I am identifying and analyzing adaptations that USAID has made in other countries as a result of the pandemic. Along with adaptations, I am also identifying enablers, constraints, unintended outcomes, and marginalized populations reached through the COVID-19 assistance interventions. 
Describe the experience of speaking before your graduating class. 
I am so grateful to have had the opportunity to speak before my class. The actual event was very organized, and I commend the organizers and volunteers for all of their hard work in ensuring that it ran smoothly. As far as the speech, some say that practice makes perfect. I did indeed practice a lot, but with the anxious feelings that came from being in front of thousands of people, misreading a line caused my mind to blank for a few seconds. Nonetheless, after the speech, I was extremely happy to have shared the moment with my peers and those who all share a common goal. The SPH faculty and staff, as well as my peers, have been so supportive in my journey, and my heart was filled with joy after graduating. 
Any advice for incoming public health students?
Take every chance to build your knowledge and skill set. Be sure to attend as many webinars, workshops and events hosted by SPH as you can. It's a great way to not only connect with faculty but also allows you to build relationships with other students. Be sure to reach out to faculty who do work that interests you. Set up a coffee and chat with them and learn about their experiences. The most important thing that I learned early on was not to limit myself in the field of public health. There are so many different directions to go and you do not need to choose one singular sector for your lifetime. Lastly, any volunteer and intern experience in public health will be beneficial. Even if the position isn't exactly what you want to do in life, I can assure you that you'll get something valuable out of it. 
Categories
Students
Profiles
Departments
Public Health Science
School of Public Health