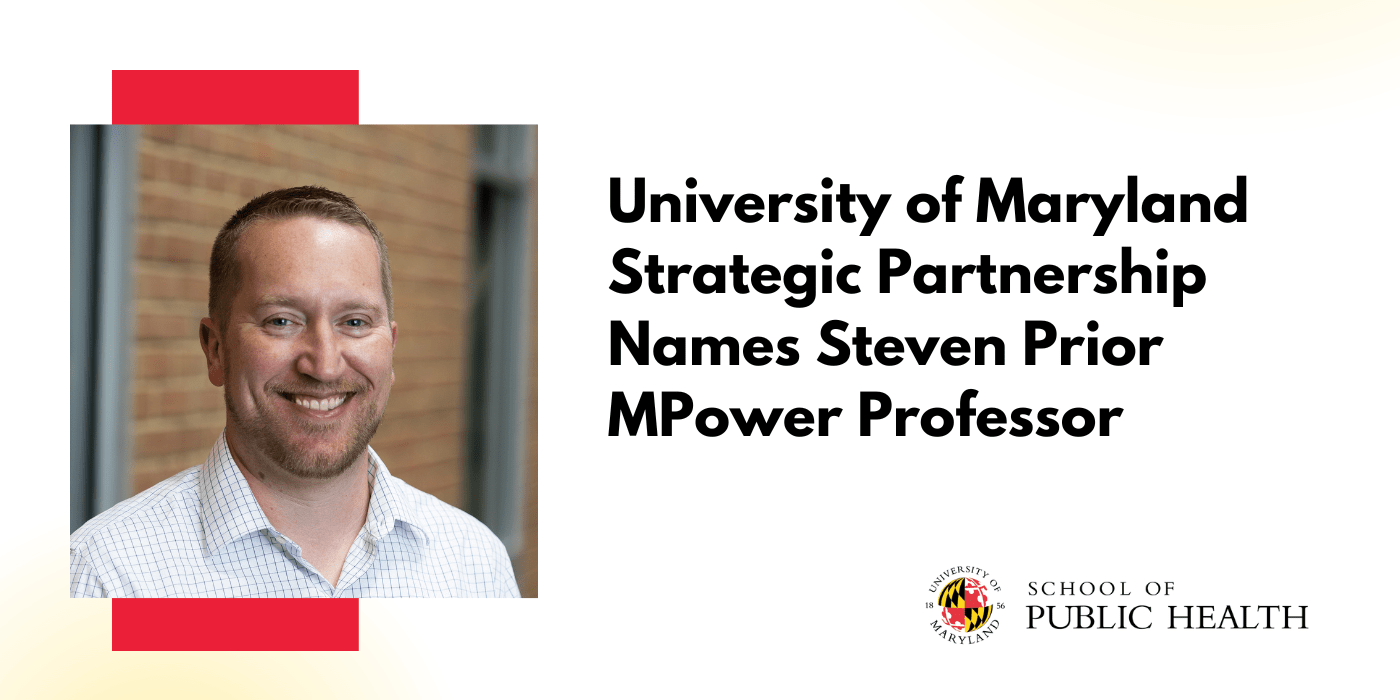 The University of Maryland Strategic Partnership: MPowering the State (MPower) has appointed Steven Prior, associate professor and associate chair for research in the Department of Kinesiology at the School of Public Health, as an MPower Professor. The MPower Professorship recognizes, incentivizes and fosters collaborations between University of Maryland, College Park (UMCP) and University of Maryland, Baltimore (UMB) faculty who are working together on the most pressing issues of our time.
Dr. Prior holds a joint appointment in the University of Maryland School of Medicine Department of Medicine and at the Geriatric Research, Education and Clinical Center at the Baltimore Veterans Affairs Medical Center. 
His research focuses on conducting exercise intervention studies to determine mechanisms by which the risk for aging-associated vascular and functional impairments may be reduced in older adults. He has extensive experience in implementing exercise training interventions in older adults with cardiometabolic disorders, as well as studying molecular, cellular, tissue, and whole-body contributors to these disorders. 
"I am honored and excited to be named an MPower Professor and to continue collaborations bridging UMCP and UMB," Dr. Prior said. "My work is centered around how exercise can affect muscular and cardiovascular changes linked to aging-related diseases and disorders affecting millions of older adults. The support provided by the MPower Strategic Partnership will augment this ongoing research and foster new collaborations with investigators on both campuses."
Dr. Prior is one of six MPower Professors announced on Thursday. He will receive $150,000, allocated over three years, to apply to his salary or to support supplemental research activities. These funds recognize, enable and support strong collaborations between faculty in the joint research enterprise between UMCP and UMB.
"Reaching across disciplines to tackle complex problems takes tireless commitment, dedication, and innovation. I'm so thankful to these six professors for demonstrating that we are stronger when we work together, and that addressing the grand challenges of our time requires thinking outside the box," said UMCP President Darryll J. Pines, Ph.D., MS.
Dr. Prior is the fourth MPower Professor from the School of Public Health since the honor started in 2021. He joins Cheyl Knott, Don Milton and Amy Sapkota.
Categories
Faculty
Research
Press Releases
Departments
Department of Kinesiology
School of Public Health