If you would like to update your contact information, please call 301-405-9748 or email woodlawn@umd.edu.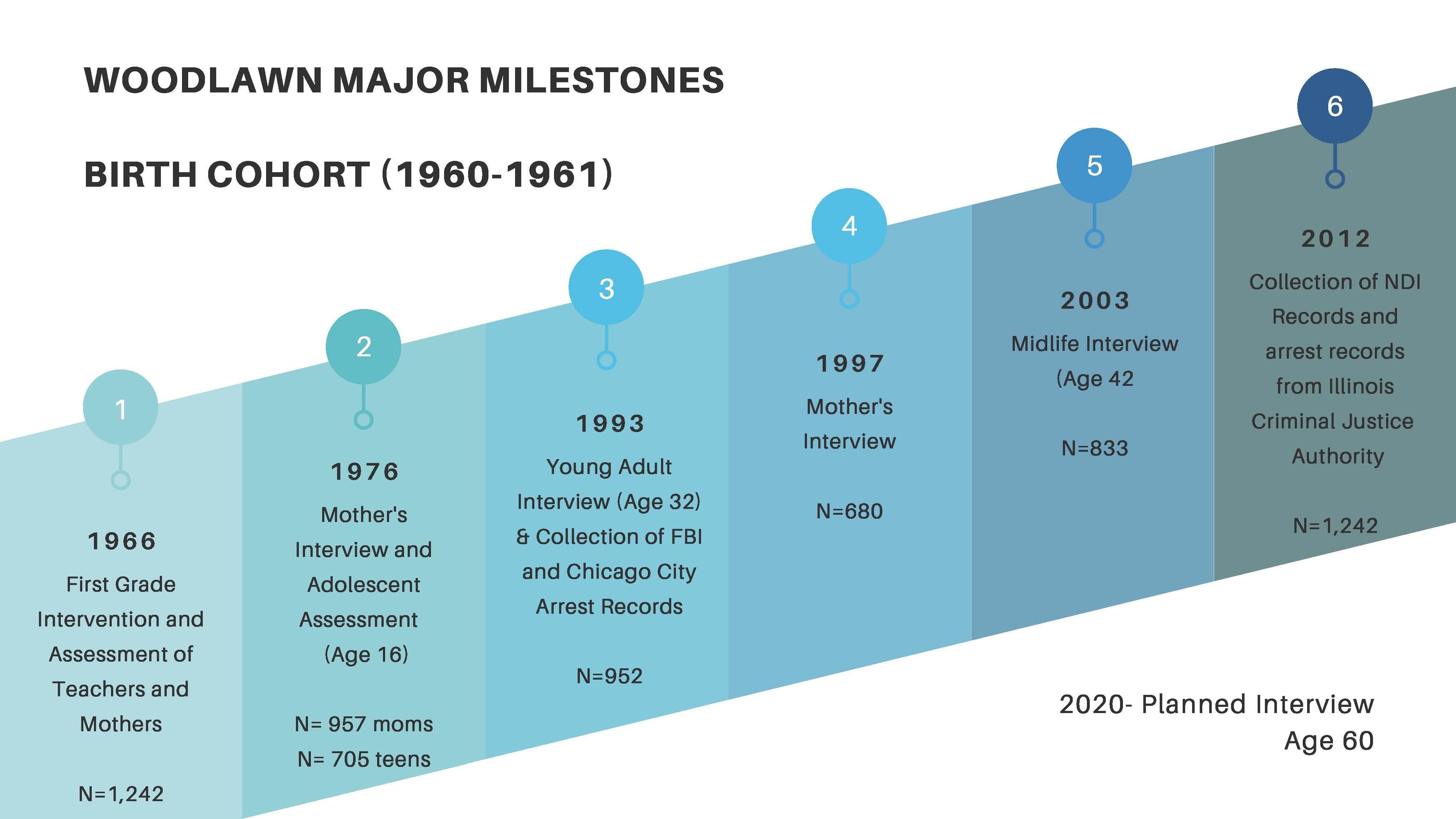 Despite living in the sixth poorest of 76 community areas in Chicago when the study began (1966), Woodlawn Study participants have shown remarkable resiliency, as well as some struggles. They have shared this information over time with follow-up assessments in adolescence (1976), young adulthood (1992), and midlife (2002). With this information, researchers have learned a lot about achieving success in school and over the life course.
Successes
Education
81% of the cohort graduated high school or obtained a GED
41% attended college
19% received a bachelors or associates degree
Employment
Employment rates have increased over time with 63% of the cohort being employed at the age 32 assessment and 74% being employed at the age 42 assessment, with some owning their own business, others working in such varied careers as attorney, nurse, police officer, teacher, and real estate agent.
Economic Success
Home ownership rates are high with 37% of the cohort owning their own house or condominium by age 42.
Struggles
Criminal Justice System Involvement
By age 32, 29% of the men and 6% of the women had spent time incarcerated.
Between ages 32 and 42, 21% of the men and 5% of the women spent time incarcerated.
Mental Health
14% experienced major depression.
Mortality
132 people have died by age 49.
Causes of death have varied with physical health problems becoming more common over time.
Of the 42 who died by the young adult interview (age 32), 39% were directly attributable to homicide, suicide, or drug over.
By midlife (age 32), 87 were deceased with acute and chronic illnesses as the most common cause of death., including 12.6% dying of HIV/AIDS. Other prominent causes of death included homicide (13.8%), trauma (10.4%), and suicide (6%).
The Woodlawn Project served as a foundation for a successful school-based intervention that has been implemented in elementary schools across the country, as well as abroad. The current intervention, the Good Behavior Game, has been shown to have short-term and long-term impact on at-risk youth, including increasing high school graduation and college attendance and reducing smoking and illegal drug use.
The Good Behavior Game is an approach to the management of classrooms behaviors that rewards children for displaying appropriate on-task behaviors during instructional times. The intervention has been shown to effective at increasing on-task behaviors and reducing disruptions in the classroom. In the 1966-1967 school year (first grade), Woodlawn Project cohort members participated in an early version of this intervention. The information gained from this intervention trial helped improve program content and implementation.