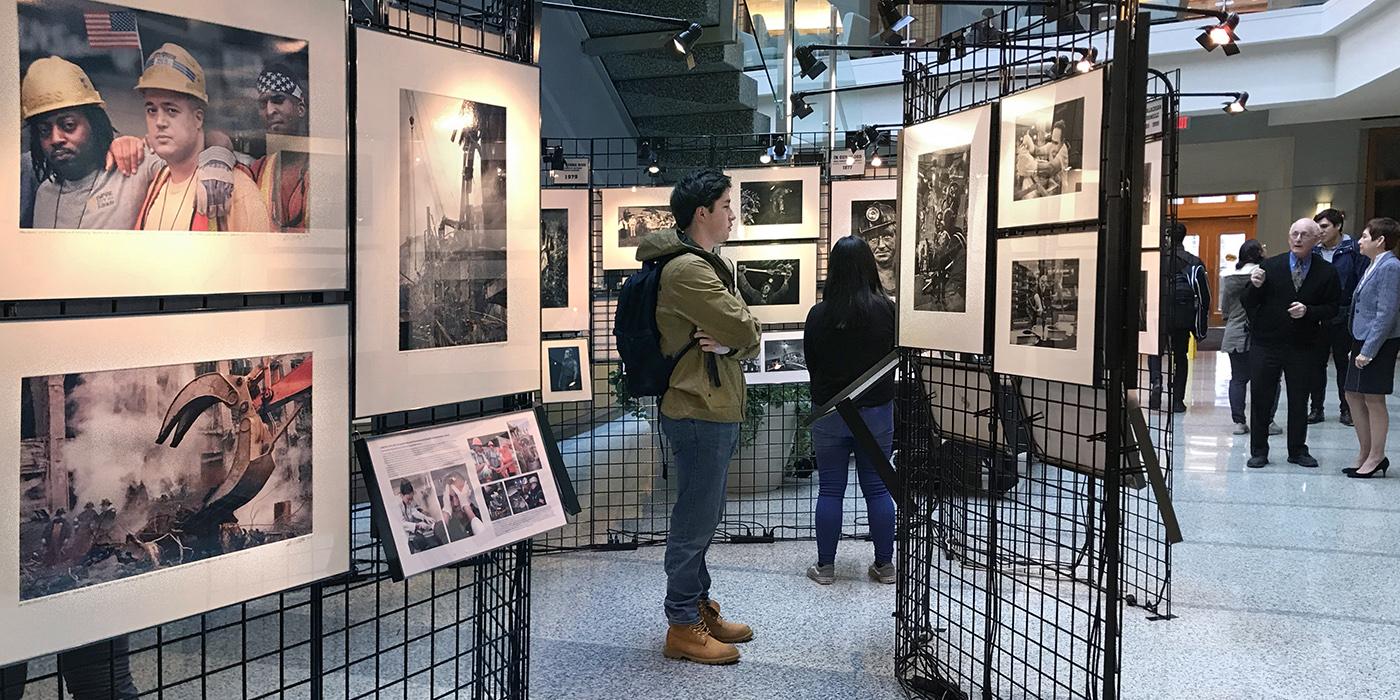 Location: Exhibit in SPH Friedgen Seminar Room (2236) and Lecture in SPH Room 1312
The School of Public Health will host a special photographic exhibition (December 6-21) and panel discussion about labor conditions and the nature of work in America (December 10). 
LIFE'S WORK, A Fifty-Year Photographic Chronicle of Working in the U.S.A. showcases images by Earl Dotter, a renowned photojournalist who has documented a wide range of occupational, environmental, and public health issues through his photographs over five decades. Earl Dotter is often referred to as the "American worker's poet laureate." 

Help spread the word about this special exhibit: Life's Work social media toolkit
About the Exhibit
Monday, December 6 - Tuesday, December 21 | Open from 8:00 AM - 4:30 PM Weekdays
School of Public Health Building, Room 2236 (Friedgen Seminar Room, just inside the main SPH building entrance)
4200 Valley Drive, College Park, Maryland 20742
Earl Dotter's retrospective exhibit, "Life's Work," sheds light on the nature of diverse American workplaces, including the satisfaction derived from work, as well the dangerous and dehumanizing aspects of it. Beginning in the Appalachian coalfields in the early 1970's and continuing to the present, Dotter has put a human face on those who labor, often in unsafe and unhealthy conditions, from miners to meatpackers, farmworkers to firefighters, and many more.  
"Earl Dotter's work vividly brings to life the impact of work, where we spend a majority of our waking hours as adults," said Dr. Don Milton, professor of environmental and occupational health in the UMD School of Public Health. "His photographs of poor working conditions and his images of people living with occupational illness have long been threatening to people in power. The first action of President Ronald Reagan's OSHA director in 1981 was to order the recall of the copies of a government pamphlet because of the powerful image on the cover, a photograph by Earl Dotter showing a cotton mill worker emaciated from the effects of brown lung caused by breathing cotton dust every day at work." 
About the Panel Discussion
Friday, December 10 | 1:00 PM - 2:30 PM EST 
School of Public Health Building, Room 1312 and streamed virtually
Reception to follow outside of the exhibit in the SPH lobby
Join photographer Earl Dotter and a panel of occupational health experts, including Dr. Don Milton, Dean Boris Lushniak and Dr. Kate McPhaul, along with Darryl Alexander, director of health and safety (retired) for the American Federation of Teachers, to explore issues around the future of work and how we protect the health and dignity of all workers. 
Questions about the nature of work and the conditions workers labor in have become paramount since the onset of the SARS-CoV-2 pandemic. Our country was forced to rethink what counts as "essential work" as everyone relied on the continuation, and in some cases acceleration, of services provided by many low-wage workers. These workers had to accept the disproportionate danger of potential exposure to the virus to keep their jobs in food service, transportation, delivery and other industries, while others faced layoffs due to the economic downturn. Healthcare workers endured long shifts, the fear of illness or exposure to their families, the trauma of treating and losing patients sick with COVID-19 and the unending exhaustion that led to burnout and turnover that continues to threaten our health care systems. 
The lecture event will be held in person with an option to watch virtually. 
RSVP to attend the panel discussion and reception in person or to access thelink to the virtual event. Note: Masks are required inside all UMD buildings.