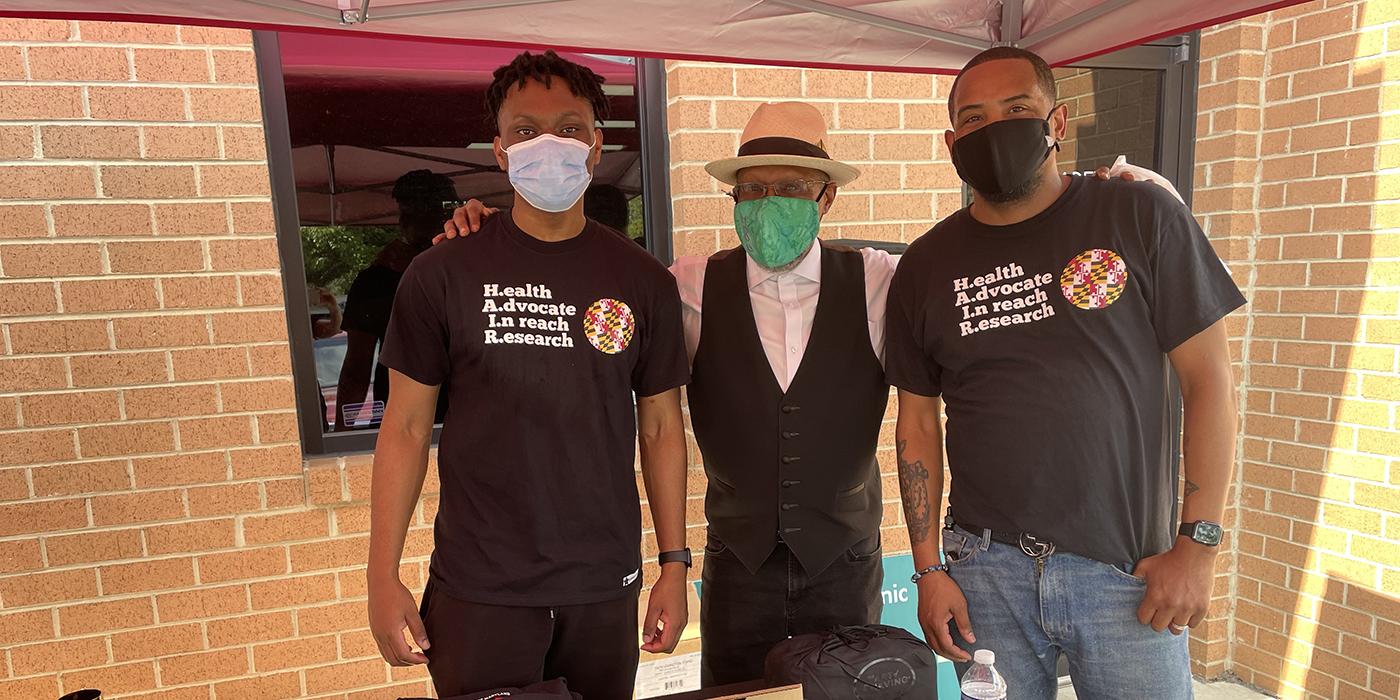 Dr. Stephen Thomas, professor of health policy and management and director of the Maryland Center for Health Equity, will be recognized with an award at the Maryland Public Health Association's annual meeting on November 10, 2021 for his "Shots at the Shop" COVID-19 vaccine initiative.
The "Shots at the Shop" initiative is a White House-backed partnership, launched in June 2021, between the School of Public Health's Maryland Center for Health Equity, the Black Coalition Against COVID, the National Association of County and City Health Officials (NACCHO), and the beauty and personal care brand SheaMoisture. 
The project's goal is to train Black hairstylists and barbers to dispel myths and disinformation about COVID-19 and share accurate information and awareness about the coronavirus vaccine with their customers. The ultimate goal has been to increase lagging COVID-19 vaccination rates in Black, Latino and other communities of color through these trusted community messengers. 
In conjunction with Shots at the Shop, Dr. Thomas has also launched Maryland Barbers and Stylists United for Health with support from the Maryland Department of Health to focus on the areas of our state that have been hardest hit by COVID-19 infections and deaths. 
According to the Centers for Disease Control and Prevention, Black Americans are 2.8 times more likely to be hospitalized and two times as likely to die from COVID-19 compared to their white counterparts. Francine Baker '17, president of the MdPHA, says that the program's commitment to addressing that inequity is why Dr. Thomas is being honored.
"We wanted to recognize Dr. Thomas for his efforts to make sure that our populations, particularly our African American populations, are being served," said Baker, who earned her bachelor's degree in Public Health Science from the School of Public Health and is at at-large member of the SPH Alumni Network board.
Part of the reason for the program's success, Baker says, is Thomas's strong relationships within the community.
"It is usually more helpful and programs usually go a lot further when the individuals that are providing the help are people that you can connect with because they look like you, they talk like you, they can relate to you," Baker said.
And Thomas, who has been working with barbers and stylists for years through his Health Advocates In-Reach and Research campaign, a culturally tailored, community-based intervention to promote health, has mobilized and energized many more sites through these concentrated efforts to reach people who have deep-rooted distrust of the medical and government establishments. 
"He recognizes that within the Black community, that's where we go, where we talk," Baker said. "A lot happens in those spaces: people share a lot, people tell a lot, and a lot of advice is given." 
Baker says she hopes the public health field will follow Thomas's lead in making these connections.
"His boots-on-the-ground approach is something I would like for all of us as public health practitioners, as much as possible, to implement in the work that we do," she said.
That, she says, is the best way to make change.
"The best way for us to advance public health and to improve the health of people in communities we serve is to meet people where we are," she said. "And that's exactly what Dr. Thomas has done."
Categories
Faculty
COVID-19
Departments
Department of Health Policy and Management
Center for Health Equity