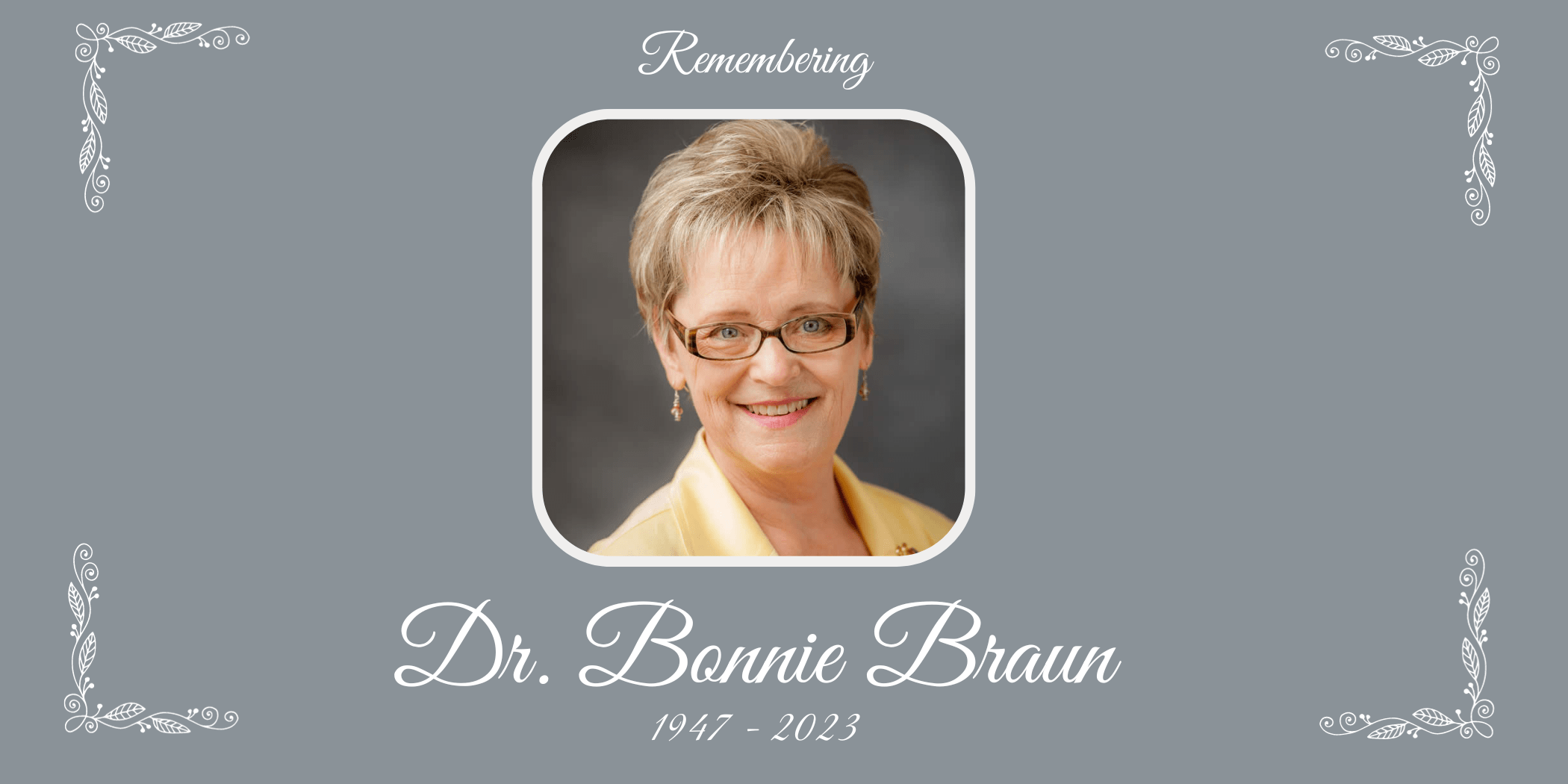 Bonnie Sue Fitterling Braun, Ph.D., a professor emerita in the University of Maryland School of Public Health's Department of Family Science and the first Endowed Chair and Founding Director of the Herschel S. Horowitz Center for Health Literacy, died November 5 at her beloved farm outside Gettysburg, Pennsylvania.
Dr. Braun, who held a dual faculty appointment with the College of Agriculture and Natural Resources, was known nationwide for her expertise in family and consumer science, rural health, extension programs, policy development and strategic planning during her nearly 15-year tenure at the University of Maryland. A co-founder of the nation's first academic center devoted to health literacy, she dedicated much of her career to helping families understand and use health insurance. She created and led Smart Choice and Smart Use, an ongoing health literacy initiative that enables consumers to take advantage of health insurance benefits offered through the Affordable Care Act.
Dr. Braun published multiple articles on wellness, health literacy and health reform and received numerous awards and recognitions throughout her career. Among them: International Adult and Continuing Education Hall of Fame charter inductee, University of Maryland School of Public Health George F. Kramer Practitioner of the Year Award and the University of Maryland School of Public Health Distinguished Terrapin Award.
She spearheaded the U.S. Department of Agriculture's first "Cooperative Extension's National Framework for Health and Wellness," which raised visibility of the extension's health-related work and accelerated new programs, partnerships and professional development opportunities for staff.
Dushanka Kleinman, a professor emerita with the School of Public Health, recalls Dr. Braun's indelible spirit and ability to apply her strategic planning and policy development skills for the greater good. 
"Her commitment to the health and well-being of all consumers, youth and those who reside in rural communities was infectious," Kleinman said. "She invigorated everyone who worked with her and who knew her. Our School of Public Health was fortunate to benefit from her leadership and dedication to striving for health equity and addressing social determinants of health." 
Elaine Anderson, a professor emerita with the Department of Family Science, remembers Dr. Braun as a visionary and mentor who challenged her colleagues and students to be "bigger and better."
"Her support and wisdom was shared equally with us all," she said. "We each felt special when we worked with Bonnie. I will remember her enthusiasm for new ideas, her laughter and the sparkle in her eye when we discovered something new, and her deep appreciation for any support she received. Bonnie is deeply missed."
Dr. Braun's legacy endures among the many students and colleagues she mentored. Stephanie Grutzmacher and Kate Speirs, both alumni of the Department of Family Science who worked with Dr. Braun as graduate students and young professionals, recollected how her mentorship shaped their careers in health extension. 
"Bonnie's encouragement, trust, and generosity as a mentor opened many pivotal doors for me and prepared me with invaluable skills for working with communities," said Grutzmacher,  associate professor of global health and nutrition at Oregon State University. "Her unpretentious nature made known what she was all about: show up, get to work and make something better."
Speirs, associate extension specialist at the University of Arizona, added, "I had the good fortune to work with Dr. Braun while I was in graduate school. Bonnie was a kind and generous mentor who provided me with an early introduction to Extension work. To this day, I still rely on the lessons she taught on how to truly partner with the community when doing community-engaged work. Bonnie helped show me the power and potential of the Cooperative Extension System and the importance of collaborative work."
After retiring from the University of Maryland, Dr. Braun continued her service with the University of Maryland Extension as a family life and family policy consultant.  
(AGNR Celebrates Women's History Month: Bonnie Braun)
The University of Maryland School of Public Health encourages all who have been touched by Dr. Braun and her work to join the Braun Family in a memorial celebration on Sunday, November 26, 2023 from 2:00 - 4:00 p.m. at Hauser Hill Event Center, 410 Cashtown Road, Biglerville, PA 17307.  
Read Dr. Braun's obituary in the Gettysburg Times.
Departments
School of Public Health
Department of Family Science