Back to Faculty & Staff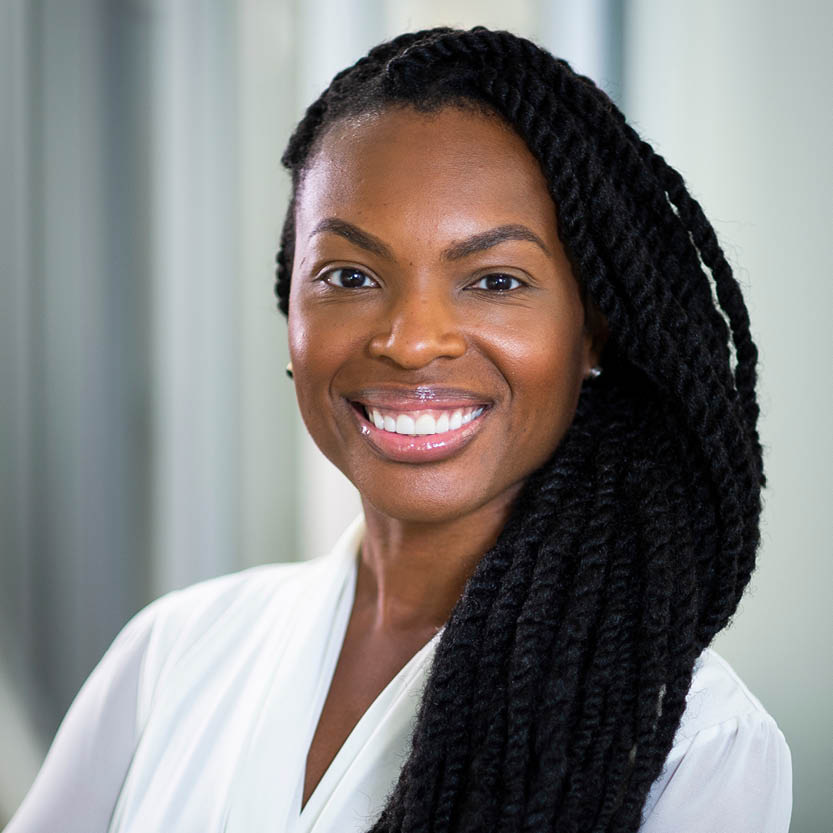 Download CV
Devlon N. Jackson
Assistant Research Professor, Behavioral and Community Health
Devlon Jackson is a health communication scientist who examines how digital health can improve the health of vulnerable populations. She explores how consumers access and use these tools within and outside clinical settings and how providers use these tools to improve care. Within this work, she identifies communication inequalities contributing to access and use. She also understands that mental health impacts physical wellness; therefore, she assesses how digital health can support mental wellness.
Contact
SPH | Room 2356
(301) 405-1464
Areas of Interest
Core Faculty
Digital Health; Communication Inequalities; Communities of Color; Health Information Seeking; Health Equity
Cancer Research Training Award Fellow, NIH-National Cancer Institute, 2015
Health Communication Informatics Research Branch, Rockville, MD

PhD, Communication and Culture, 2014
Howard University, Washington, D.C.

MPH, Health Education and Promotion, 2006
Florida International University, Miami, FL

BA, Organizational Communication, 2004
University of Central Florida, Orlando, FL
HLTH371 Communicating Safety and Health
HLTH671 Public Health Communication
Research Grants

NIH-National Institute on Minority Health and Health Disparities (Investigator Diversity Research Supplement Grant)- Using Health Information Technology to Improve Community Care Coordination and Reduce Racial Ethnic Mental Health Disparities, 2019 (3 years), PI
NIH-National Library of Medicine (R01) - HealthyMe/MiSalud Smartphone Application: Identifying Mechanisms to Engage African Americans and Hispanics in Personal Health Libraries, 2018 (4 years), Project Director

Honors and Awards
Outstanding Research Presentation, "Implications of Social Media Use on Health Information Technology Use: Data from HINTS 4 Cycle 3," DC Health Communication Conference, 2015
JACKSON, D., Trivedi, N., & Baur, C. (2020). Re-prioritizing digital health and health literacy in Healthy People 2030 to affect health equity. Health Communication. PMID: 32354233.
JACKSON, D., Peterson, E. B., Blake, K.D., Coa, K., Chou, W. S. (2019). Americans' trust in health information sources: Trends and sociodemographics predictors. American Journal of Health Promotion, 33(8): 1187-1193. PMID: 31337226
Blake, K.D., Thai, C., Falisi, A., Chou, W.S., Oh, A., JACKSON, D., Gaysynsky, A., & Hesse, B. (2019). Video-based interventions for cancer control: A systematic review. Health Education & Behavior, 47(2): 249-257. PMID: 31701780.
JACKSON, D., Passmore, S., Fryer, C. S., Chen, J., Kleinman, D., Horowitz, A. M., Butler, J., Garza, M. A., Quinn, S.C., Thomas, S. B. (2018). Mission of Mercy emergency dental clinics: An opportunity to promote general and oral health. BMC Public Health, 18:878. PMCID: PMC6045818
Thomas, S. B., Passmore, S., JACKSON, D., Casper, E., Horowitz, A., & Kleinman, D. (2017). The 2014 Mid-Maryland Mission of Mercy dental clinic: Building community capacity and complementing public policy. American Journal of Public Health,107(no S1), S74-S76. PMCID: PMC5497877
JACKSON, D., Chou, WS., Coa, K., Oh, A., & Hesse, B. (2016). Implications of social media use on health information technology engagement: Data from HINTS 4 Cycle 3, Translation Behavioral Medicine, 6(4), 566-576. PMCID: PMC5110501
Oh, A., Chou, W.S., JACKSON, D., Cykert, S., Eng, E., & Community Rx (2016). Reducing cancer disparities through community engagement: The promises of informatics. In B. Hesse, D. Ahern, & E. Beckjord. Oncology informatics: Using health information technology to improve processes and outcomes in cancer (pgs. 24-38). Massachusetts: Elsevier.
Thompson, J., Brown, R., & JACKSON, D. (2016). Context of the dark side of communication. In E.Gilchrist-Petty & S. D. Long. Exploring the dark side of social support among African Americans with prostate cancer (pgs. 137-150). New York: Peter Lang.