The UMD School of Public Health Alumni Network has been re-energized with the leadership of a new group of officers who are planning activities that will connect UMD SPH alumni (as well as those who graduated from the colleges that pre-dated the formation of the School of Public Health in 2007) for networking, educational and recreational opportunities. Welcome to the new leaders! 
President
Jameson Roth '17 (Family Science)
Senior Account Manager, McCabe Message Partners
Contact
A creative storyteller at heart and in the health sector, Jameson provides strategic account management as a Senior Account Manager with McCabe Message Partners. Using a message-centered approach, Jameson manages earned and paid media outreach, targeted communications planning, and creative development for Alzheimer's clinical trials recruiting older adults and multiple foundations focused on improving age-related care. Jameson joined McCabe Message Partners in 2022. Previously, she led digital event planning and diversity efforts related to premedical student and applicant services for a D.C.-based healthcare association.
Jameson believes in the power of community; she dedicates her time and energy to creating an engaged School of Public Health Alumni Association to better serve and inspire students, faculty, and the greater University of Maryland community. By working together with her alumni network colleagues and serving on the Alumni Association Board of Governors, Jameson directs coordinated initiatives to uplift and share public health knowledge and opportunity with the greater University of Maryland Community. She's thrilled to give back to the School of Public Health through service on the Alumni Network Board.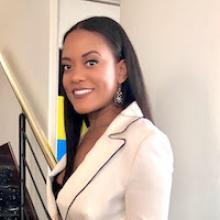 Vice President
Jennifer Clerie '16 (Community Health)
Senior Data Manager at the Emmes Company, LLC
Jennifer graduated from the University of Maryland, College Park School of Public Health in 2016 with a BS in Community Health and from the University of Maryland Global Campus with a Master of Business Administration in 2021.
Jennifer currently works as a senior data manager at the Emmes Company providing data management support and oversight of data management staff on multiple clinical trials for private and public sector clients. Jennifer previously worked at Health Analytics as a project manager overseeing health economics and outcomes research for pharmaceutical and biotechnology clients. Some research studies she has supported and authored have been published in Psych Congress, The American Journal of Gastroenterology and presented at the Academy of Managed Care Pharmacy conferences.
Jennifer has a passion for improving public health across the world through high-quality research design, effective operations and project management, and strategic decision-making. Her goal is to combine her public health and business knowledge to lead the operations of public institutions and corporations. She is thrilled to continue on the SPH Alumni Network Board as Vice President and cultivate a relationship with alumni near and far.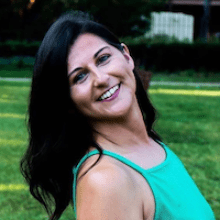 Secretary
Nicole Gormley '14 (Community Health)
Grants Management Specialist at the National Institutes of Allergy and Infectious Diseases (NIAID), NIH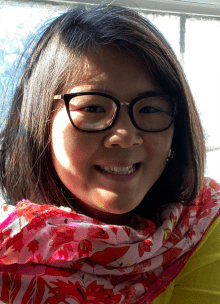 Treasurer
Jes Lyons '14 (Community Health), MPH
Project Manager, Family Violence Prevention and Services Act, at Potomac Haven Inc.
Jes is the project manager at Potomac Haven Inc., overseeing the federal contractor team on the Family Violence Prevention and Services Act (FVPSA) American Rescue Plan (ARP) grant to support survivors of sexual assault. Jes has a personal and professional understanding of trauma and adversity, which fuels her journey working in injury and violence prevention. She has been working in the injury and violence prevention field for 10 years, focused on topics such as sexual violence, prevention of adverse childhood experiences, and substance use and addiction; wearing many hats as an advocate, community educator, training, and technical assistance provider, and now project manager. 
Jes' goal for the School of Public Health Alumni Network is to nurture connections, especially during a time of unprecedented burnout and fatigue. Her self-care routine includes adventuring with her pups.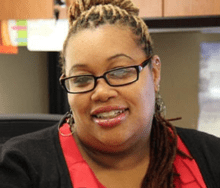 Katrina Debnam PhD '12 (Behavioral and Community Health)
Associate Professor, Department of Family, Community & Mental Health Systems & Department Research, Statistics, and Evaluation  at the University of Virginia
Dr. Debnam is an Assistant Professor at University of Virginia in the School of Nursing and the School of Education and Human Development. Dr. Debnam earned a master's of public health degree in health behavior and health education from the University of North Carolina, Chapel Hill and a doctorate in behavioral and community health from the University of Maryland, College Park. Dr.  Debnam scholarship stems from her interests in health outcomes for historically underserved adolescents through community-based violence prevention strategies. Dr. Debnam has expertise in mixed methods and qualitative methodology including observations, focus groups, and interviews. In particular, her research has focused on the role of bystanders in adolescent dating violence prevention, school-based violence prevention programs, increasing equity in schools, and the salutary influence of faith and spirituality in youth development.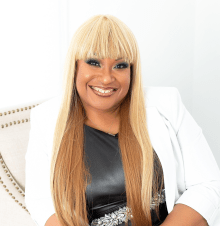 Jeannette Devine '01 (Family Studies), MA, DBA
Management Analyst at US Department of Housing and Urban Development 
Dr. Jeannette Devine has over 20 years of Federal Government Service ranging across various agencies and has completed two comprehensive and dynamic Federal Leadership Programs. She has devoted most of her Federal career experience in the area of Ethics beginning in 2005 with the U.S. Department of Commerce, Office of the General Counsel, Ethics Law and Programs Division to most recently the U.S. Department of Housing and Urban Development, Office of the General Counsel, Ethics and Appeals Division. While employed at U.S. Department of Health and Human Services, Food and Drug Administration, Dr. Devine also worked within the Division of Scientific Advisors and Consultants with Special Government Employees on various Advisory Committees and on the Nation's COVID-19 vaccines
Dr. Devine attained a Doctor of Business Administration with a concentration in Healthcare Management from Walden University, a Master of Arts in Counseling Psychology with a specialization in Adlerian Theory and Psychotherapy from Bowie State University, a Bachelor of Science in Family Studies from the University of Maryland College Park, and her pursuit for higher education began at Prince George's Community College.
Lastly, she is passionate about leadership, cultures, and is an avid traveler (which includes completing her 2nd doctoral residency in Hammersmith, England). Dr. Devine's belief in building positive relationship in others is rooted in leadership, understanding, and ethics. She is a member of various leadership and mentorship organizations including the National Society of Leadership and Success and now the University of Maryland, College Park, School of Public Health Alumni Network Board.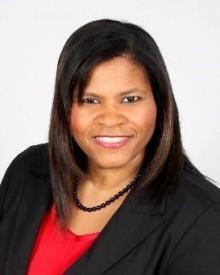 Chandria Jones PhD '14 (Behavioral and Community Health)
Senior Research Scientist at NORC at the University of Chicago
Chandria is a Senior Research Scientist at NORC at the University of Chicago. She leads public health research and evaluation for the federal government and foundations in the areas of behavioral health, health equity, and health communications. With an emphasis on culturally responsive and equitable evaluation and research, she leads equity-focused projects that leverage community engagement and participatory methods. Her research examines social and environmental determinants of health for historically disadvantaged populations such as people from racial and ethnic minority groups, youth and families with lower incomes, and persons with mental health and substance use disorders. Her work has a strong racial equity focus and emphasizes the need to go beyond individual behavior change to understand the social, cultural, and physical environments in which people live, which either encourage or inhibit opportunities for health and well-being. 
Chandria feels vested in the success and growth of the SPH Alumni Network. She actively supports UMD SPH as an alumni, mentor, and adjunct faculty. Continuing to serve on the UMD SPH Alumni Network is an exciting way to continue supporting the school of public health.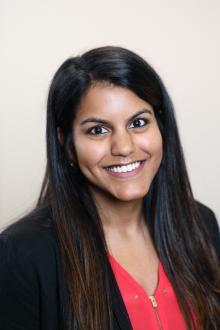 Arina Knowlton '15 (Community Health Education), MPH
Global Health Research and Policy Analyst at Fogarty International Center
Arina is a Global Health Research and Policy Analyst for the Center for Global Health Studies at the National Institute of Health's Fogarty International Center and has a strong passion for global health. She manages a portfolio of projects spanning across Latin America, sub-Saharan Africa, and Asia that address a variety of disease and health research areas. Arina is both a 2015 graduate of the MPH Community Health Education program and a 2011 graduate of the BS Community Health program at Maryland. She hopes to inspire other alumni to get involved and to support the SPH as it continues to influence the local and global public health arenas. At the end of the day, Arina is a die-hard Maryland born-and-bred Terrapin—she is excited to continue to expand the SPH Alumni Network's footprint. Go Terps!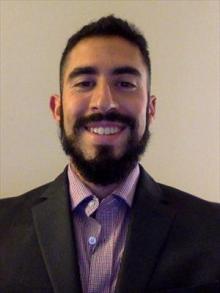 Paul Levy '13 (Behavioral and Community Health)
Senior Public Health Consultant at Deloitte
Paul is a public health consultant leading the development of COVID research strategy for the Virginia Department of Health. When he's not entrenched in the latest COVID data and policy briefs, Paul also teaches Community Health undergraduates navigate their capstone research thesis. He enjoys exposing students to career pathways by connecting them to public health professionals across industries and developing their network in the process. Paul enjoys finding common threads amongst public, private, government, and academic sectors and shattering these walls to bring together engaging and curious individuals from each field - he looks forward to continuing this work with students and alum during his second term with the board and cultivating innovative partnerships in the process.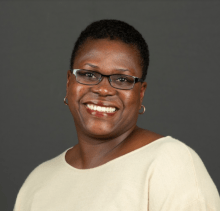 Rovenia Manor '98 (Kinesiology), MA
School Based Physical Therapist at Montgomery County Public Schools
Rovenia M Manor is a 1998 graduate from the UMD Department of Kinesiology. Her academic career began at Syracuse University, but after undergrad she returned to the DMV to complete graduate studies at UMD. Following graduation, she turned her attention to physical therapy. To date, her work in physical therapy has spanned both coasts of the US and Asia. She loves her chosen profession and enjoys the opportunity to help individuals achieve their optimal mobility. As a career-driven mom, she is constantly striving to maintain a healthy balance of professional and personal life goals. Thus far, reading, hiking and exploring new fitness activities are keeping her mind and body in balance.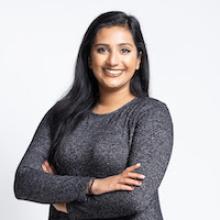 Rohini Nambiar '19 (Public Health Science) 
Movement Partnerships & Engagement Specialist at Planned Parenthood Federation of America

Rohini Nambiar graduated from the University of Maryland College Park in 2019 with a BS in Public Health Science and a minor in General Business from the Smith School of Business.
During her time at UMD she was deeply involved on campus as a student leader in the Student Government Association and found her academic interests at the School of Public Health in health policy and advocacy. She is currently working at Planned Parenthood Federation of America as the Movement Partnership and Engagement Specialist. Ro is passionate about strategic partnerships and organizing for sexual and reproductive health, rights, justice. She currently resides in DC but will always be a Maryland girl at heart.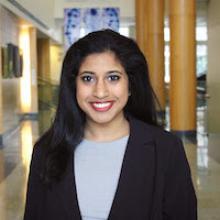 Aparna Pooleri '19 (Public Health Science) 
Consultant at Potomac River Partners
Aparna is a 2019 graduate of the University of Maryland with a BS in Public Health Science and a minor in International Development. Currently, she is a Consultant for Potomac River Partners, a management consulting firm specializing in compliance services for the life sciences industry.
As an undergraduate, Aparna was involved with Beta Psi Omega, the co-ed biology fraternity, and served as a Teaching Assistant for Anatomy & Physiology. After graduation, Aparna worked primarily in the public sector. As a Strategy Consultant for IBM, she provided business process improvement services to the SEC and acted as a Project Manager in IBM's pro-bono consulting practice. At Corner Alliance, as a Consultant I, her team assisted FEMA in creating a novel web application for Alerting Authorities to streamline and standardize their alerting processes, thus reducing delays and removing errors in emergency notifications.
Aparna is passionate about health literacy, women empowerment, and sustainable development, and she is excited to serve her second term on the SPH Alumni Network Board!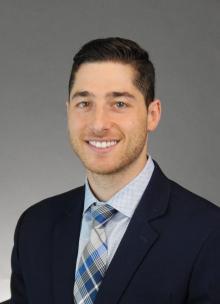 Zachary Rabovsky '09 (Kinesiology)
Director of Practice Transformation, CareFirst BlueCross BlueShield
Zachary Rabovsky is the Director of Practice Transformation for CareFirst BlueCross BlueShield, where he is advancing innovative population health strategies for value-based care partners. Zach leads CareFirst's Practice Consulting team who work with physicians and healthcare professionals to identify opportunities, recommend strategies, and support workflow redesign to improve affordability, access, quality, and equity for patients. He has also championed efforts to build partnerships across payers and providers and leads CareFirst's alignment with the Maryland Primary Care Program through the Maryland Depart of Health and The Center for Medicare and Medicaid Innovation. Originally from Cleveland, Ohio, Zach received his Bachelor of Science in Kinesiology from the University of Maryland and a Master of Public Health with a concentration in Health Policy from The George Washington University. Zach has a passion for mentoring and developing a public health workforce that is ready to solve the many challenges facing our healthcare system. Zach believes public health professionals have an exciting and impactful role to play in improving health outcomes and healthy living that can be accelerated by the UMD SPH Alumni Network.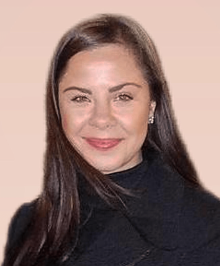 Tina Wenzlaff '12 (Behavioral and Community Health)
Program/Project Management Specialist at Booz Allen Hamilton
Tina Wenzlaff is a Project Management Specialist and passionate service professional at Booz Allen Hamilton. As a "Jane of all Trades" she has served eight years supporting diverse public health missions including SAMHSA's National Center for Healthy Safe Children, CDC's Youth Violence Prevention Training and Technical Assistance Program, FDA'S Center for Tobacco Products, and DoD's Psychological Health Centers of Excellence. Presently she consults as a Project Manager for the NIH Office of Research on Women's Health (ORWH). Tina applies a human centered approach to everything she works on. Her methodology focuses on harnessing the power of digital collaboration tools and project management principles to improve workspace operations at ORWH. 
Tina is excited for this next chapter to serve with a talented team on the UMD SPH Alumni Network and to give back to her alma mater. By expanding her network and growing a nurturing community, her hope is to inspire alumni to plant new seeds and build strong roots that branch across the SPH family.
 Since 2018, Tina has served as a community service leader and advisor at Booz Allen. She is passionate about bringing people together to make the world a better place, one volunteer event at a time.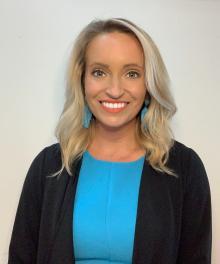 Alyssa Todaro Brooks, PhD '15 (Behavioral and Community Health) 
Associate Director, Clinical Effectiveness and Decision Science at Patient Centered Outcomes Research Institute (PCORI)
Dr. Alyssa Todaro Brooks is an administrator, scientist, educator, mentor, and advocate. Dr. Brooks served as President of the School of Public Health Alumni Network from 2017 until 2022. She also served on the University of Maryland Board of Governors and the Robert S. and Barbara A. Gold Public Health Innovation Award selection committee. 
Dr. Brooks has worked at both the NIH Clinical Center as a health behavior researcher and the NIH Center for Scientific Review. She has taught over 500 students as an adjunct professor in the School of Public Health. She currently serves as an Associate Director of Clinical Effectiveness and Decision Science at PCORI.
In her community, Dr. Brooks serves on a number of nonprofit and community-based executive boards. She is grateful for opportunities to give back to the Maryland community, which prepared her for a lifetime of leadership and service.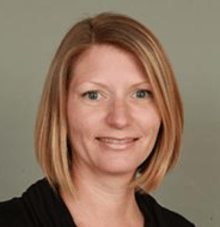 Dena Gregory Fisher '97 (Kinesiology), MPH
Senior Health Communication Manager at CommunicateHealth Inc
Dena is a Senior Health Communication Manager at Communicate Health. Dena is honored to serve as the past treasurer and enjoyed working with other board members to increase alumni participation across all generations of graduates of the School of Public Health - bridging the gap of soon-to-be and recent graduates to those who bring years of expertise and knowledge in the field of public health. Dena is really excited about the new research and programs at the School of Public Health as well as the University as a whole. She looks forward to continuing to serve in an ex-officio role on the board and to participate in upcoming alumni initiatives.