Applications for Fall 2023 are now OPEN
The STEP Program is a professional training program designed to help students gain practical knowledge and develop essential skills to succeed in the "world of work." Through a series of workforce training workshops, students will enhance their competencies in communication, leadership, and teamwork in a professional environment. This semester-long experience ends with students developing their own Career Preparation Strategic Plan for workforce development (Note: the capstone project is during the months of January and June). The STEP program allows students to embrace a supportive community and develop a professional network while in an active and engaging learning environment. Although the STEP program is open to all students in the School of Public Health, special consideration is given to under-served minority, first-semester (transfer or freshman), and/or first-generation college students.
Upon completion of the STEP Program students will be able to:
Demonstrate clear, professional communication via oral, written, and multi-media platforms.

Demonstrate readiness for transitioning from student to career professional.

Demonstrate self-confidence sufficient to successfully engage with faculty and employers.

Apply critical thinking skills applicable to the public health workforce.

Integrate theory into public health practice.

Recognize and facilitate the transfer of skills from student experience to a professional entry-level position.
Participants must have the following requirements in order to participate:
Be a current undergraduate SPH student
Have never completed the program before
Fall 2023 Schedule 
NOTE: The program will run, based on the availability of most participants. Therefore, on the application, please indicate your preferred times to meet.
| Date | Delivery Method | Times |
| --- | --- | --- |
| Track A: Tues., Sept. 12th | In-Person | 2:00pm - 3:00pm |
| Track A: Tues., Sept. 26th | In-Person | 2:00pm - 3:00pm |
| Track A: Tues., Oct. 10th | Remote | 2:00pm - 3:00pm |
| Track A: Tues., Oct. 24th | In-Person | 2:00pm - 3:00pm |
| Track A: Tues., Nov. 7th | In-Person | 2:00pm - 3:00pm |
| Track A: Tues., Nov. 14th | Remote | 2:00pm - 3:00pm |
| Track A: Tues., Nov. 28th | In-Person | 2:00pm - 3:00pm |
| Track A: Tues., Dec. 12th | In-Person | 2:00pm - 3:00pm |
| Date | Delivery Method | Times |
| --- | --- | --- |
| Track B: Wed., Sept. 13th | In-Person | 2:00PM - 3:00PM |
| Track B: Wed., Sept. 27th | In-Person | 2:00PM - 3:00PM |
| Track B: Wed., Oct. 11th | Remote | 2:00PM - 3:00PM |
| Track B: Wed., Oct 25th | In-Person | 2:00PM - 3:00PM |
| Track B: Wed., Nov. 8th | In-Person | 2:00PM - 3:00PM |
| Track B: Wed., Nov. 15th | Remote | 2:00PM - 3:00PM |
| Track B: Wed. Nov. 29th | In-Person | 2:00PM - 3:00PM |
| Track B: Wed., Dec. 13th | In-Person | 2:00PM - 3:00PM |
STEP Digital Badge
We are proud to say that the STEP Program is one of the first programs on the UMD campus to offer students the opportunity to receive a digital badge. Badges are used to directly communicate valuable skills that are often difficult to show on a traditional transcript. The STEP Career Readiness Badge will help you to showcase the knowledge, skills, and abilities you've learned in the program to employers! Find more information on UMD Digital Badges.
Check out the Mayland Today Article: A 'Badge' of Honor
**In order to be eligible for a STEP badge students have to complete the entire STEP program including; submitting all assignments, attending all workshops, and participating in the semester-long group project**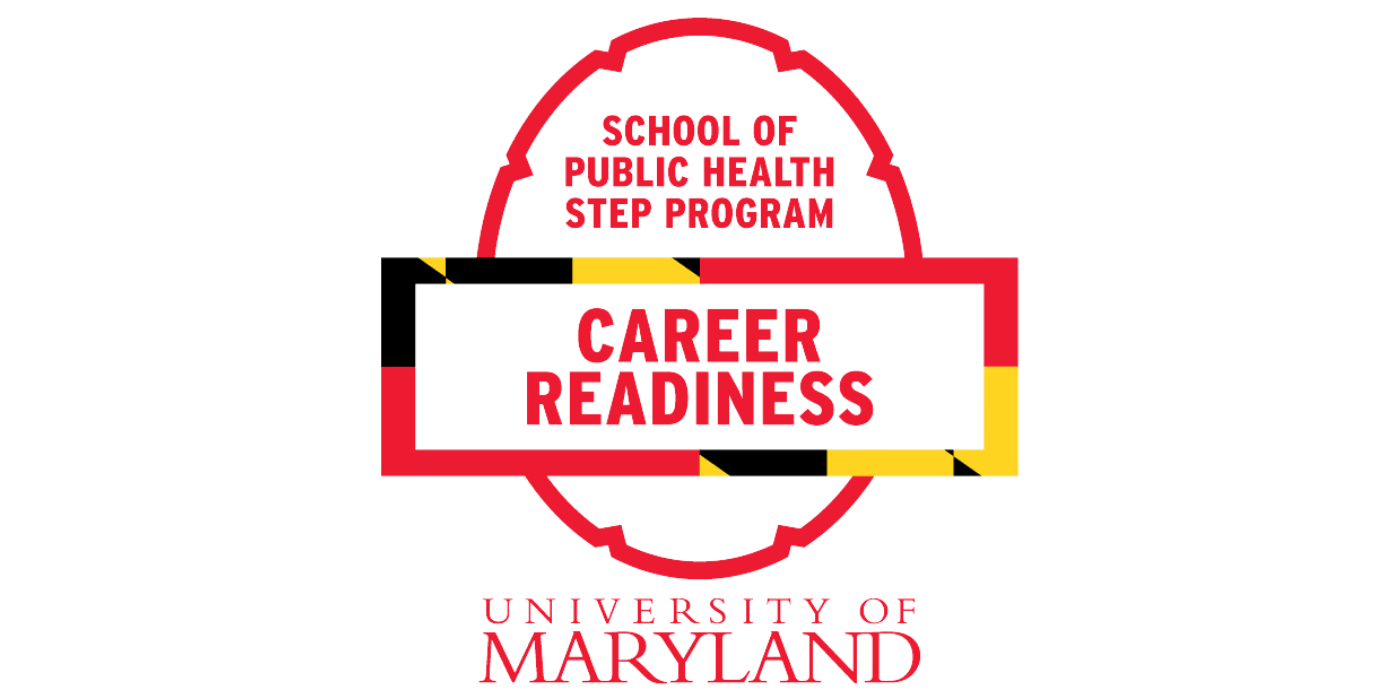 98%
98% of the students who participated in the STEP program rated their experience as Fantastic or Really Good!
We asked STEP graduates a few questions about the STEP program. Here's what they had to say:
Question 1: Would you recommend STEP to a friend?
Absolutely. STEP is engaging, yet fairly low-commitment, allowing me to easily balance schoolwork.
It was very informative and such a fun environment to be in!
Yes, because you're gaining invaluable skills that you can use long term and meeting amazing people as well
Yes, I would recommend STEP to a friend because if definitely will help with getting a job.
I would definitely recommend STEP to a friend because of its unique ability to make a seemingly difficult, treacherous journey into the professional workplace feel safer and more achievable. Despite my heavy course load this semester, I found it easy to weave in the STEP program because it was simply 3 hours out of my month to help me in the long run with professional skills and development. The program takes a unique approach to the professional workplace and interwinds active learning to make the tasks seem less daunting. I definitely think it helped prepare me in terms of lifting my confidence and providing me with further skill sets necessary for my future career.
Yes because it's not a huge time commitment, you learn new tools to help you navigate towards your career path, and you get to meet great people.
Yes, because it helps students transition from college to professionalism by educating them on certain key points such as unspoken rules, individualism, diversity, and more.
Question 2: Did the STEP program meet your expectations?
I originally perceived STEP as being a program where I'd gain insight into professional fields, allowing me to see myself in the future as a professional; and that's exactly what STEP has shown me.
Yes! At first, I thought I wouldn't enjoy this program but once I started coming to the workshops and meeting new friends it made me look forward to the sessions. I also liked how it forced me to get out of my comfort zone while also learning skills that I can not only use in the work place and during my academic career as well.
Yes, I thought it would just be about the job search after college, but there was so much more information on how to adjust to the professional world.
The STEP Program provided me with so much more than I had initially expected. I never thought I would have gotten to know so many more people at such an intimate level through the workshops. The program allowed me to simultaneously build professional skills and interpersonal skills!
Question 3: What did you learn while in the STEP program?
I learned that rather than trying to change myself to fit a stereotypical leader, as I have learned my leadership style. Now, I can nurture that natural leader in me and be the best leader with the skills I already have.
One thing I learned in STEP this semester is the power of voice. I learned that there is no such thing as a wrong or bad answer, and by answering questions in class and raising my opinion, I found it easier to spark conversation and be able to engage in different perspectives with my peers.
Preparation in college for the workforce is necessary.
The importance of diversity in the workplace and the unwritten social rules in a professional environment. These two things were particularly useful to learn about.
It gave me more knowledge and the skills to obtain my dream career, such as networking, learning your strengths
Double Steppers are Peer Mentors within the STEP Program. These students have completed the STEP curriculum and received a Certificate of Excellence for this hard work and dedication to the program. Double Steppers receive a Certificate of Scholarship after a one-semester of commitment and are eligible to receive a Letter of Recommendation from the STEP program for scholarships, Graduate School admissions, 4+1 Master Programs, Greek Life, and more!
Double Steppers follow a monthly workshop schedule of advanced professional training, while also leading activities and giving presentations during the STEP workshops. Being a Double Stepper is a one-semester commitment with the option to renew and continue each semester.
The STEP Capstone Project is a personalized project that includes a mixture of applications and professional skill-building. The project requires at least 16-hours of professional engagement. Its an opportunity for you to spend your break investing in yourself be acknowledged for it! Students who complete the Capstone Project are permitted to receive a Letter of Recommendation for their future endeavors. Letters can be drafted to support: scholarships, Graduate School admissions, 4+1 Master Programs, Greek Life, and more!
In order to complete the STEP Capstone Project students must be admitted it the STEP cohort. The capstone project is an optional activity conducted during the academic break (winter or summer). For more information please email sph-step@umd.edu.
Frequently Asked Questions
Can a student receive credit for participation in the program? STEP is an extracurricular program, but if a student is a Double Stepper they may receive 1-credit for their participation in the program through registering for SPHL 333.
Is there a fee required to participate? No, the program is free for participants.
Is there a dress code for the workshops? We exercise a "come as you are" policy. Whether suite, tie or gym clothes all are welcome. 
What if I cannot participate in the workshop sessions? If a student cannot commit to attending workshops and completing assignments, they can participate in the program for the following cohort.
What qualifications do I need to be admitted into the program? Be a current SPH, have never participated or completed STEP before, and be available to attend workshops.
What happens if I have to miss a session? In the same way, you would let your employer know you are not coming into work, please notify the STEP Team via email at ​sph-step@umd.edu​ of your absence​. ​Advance notice is preferred.
Can I meet with someone from STEP outside of scheduled events and workshops? Yes, you can schedule and appointment with us. Simply send an email to sph-step@umd.edu​ ​with your request and who you would like to meet with. 
Do I have to be in a specific major to participate in this program?  Just be an undergraduate student in the School of Public Health
Tia M. Cunningham
Program Manager, Student Engagement and STEP Program
tanksley@umd.edu
(301) 405-4397
M. Dee Strum, '74 & '78
Sr. Faculty Specialist, STEP Program
mdstrum@umd.edu
(301) 405-4397
Oluwalayomi Omolola '23
Graduate Assistant, Behavioral & Community Health