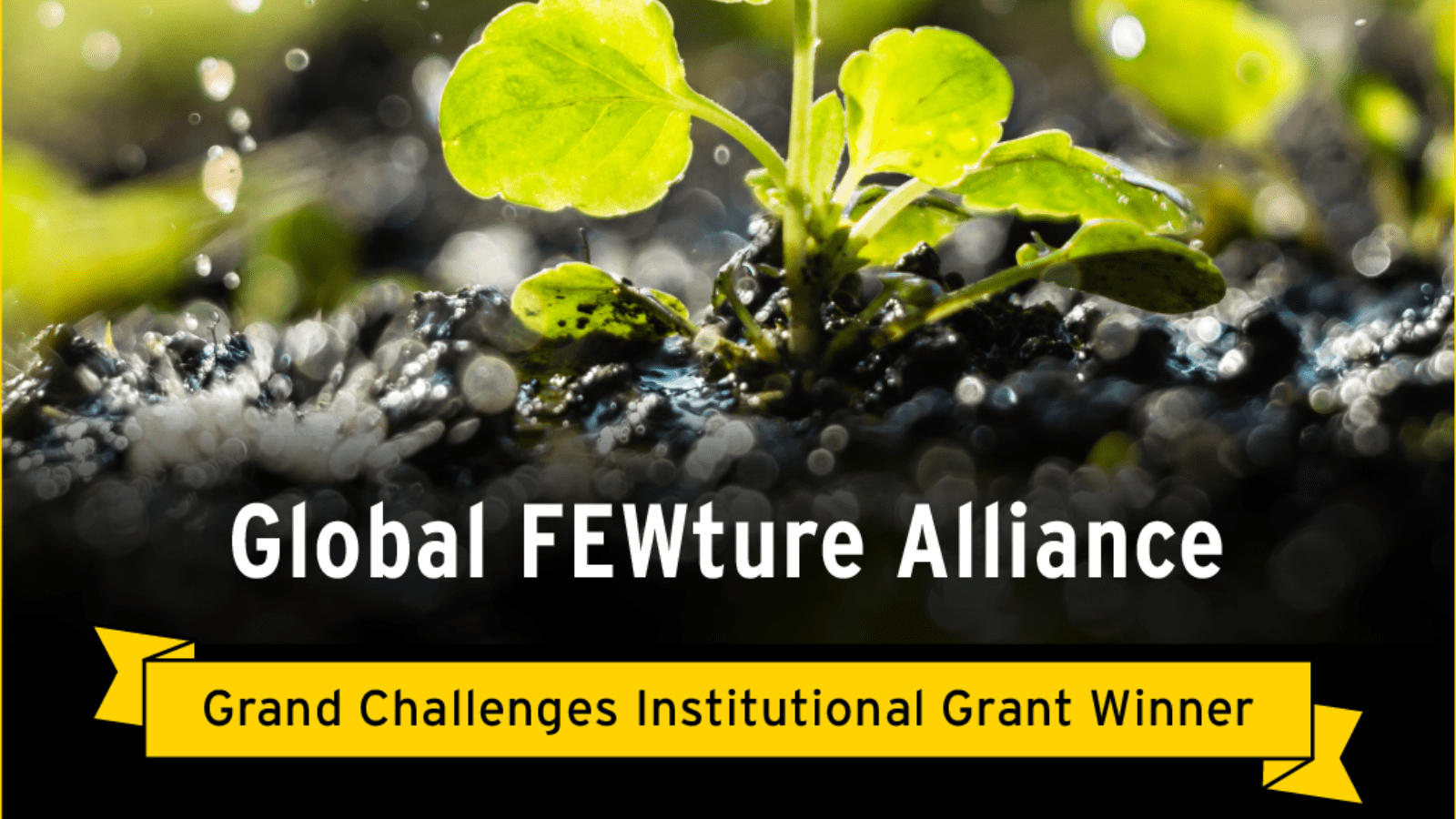 Climate change and population growth are crippling food, energy and water resources around the globe, and without intervention, scientists predict the situation will only deteriorate over the next three decades. By 2050, global food production will need to increase by 70%, and demand for water and energy will increase by over 50%.
The time for comprehensive action is now, said Amy Sapkota, MPower Professor of environmental health and principal investigator for the new Global FEWture Alliance.
Funded by a $3 million Institutional Grant from the University of Maryland Grand Challenges Program, the international and interdisciplinary alliance will focus on alleviating food, energy and water insecurity, protecting environmental and global public health and bolstering community resilience in a changing climate.
"Over the past 10 years we estimate that the University of Maryland has brought in over $300 million to fund about 650 projects focused on food, energy or water, but these projects are often not coordinated," Sapkota said. "When food, energy and water systems are managed in isolation, it can unintentionally lead to the collapse of the others. Instead of addressing these challenges individually, we must work across disciplines to develop holistic technology-based and policy solutions that focus on all three areas of what we call the 'food-energy-water (FEW) nexus.'"
The new alliance includes faculty from the School of Public Health; the College of Agriculture and Natural Resources; the College of Computer, Mathematical and Natural Sciences; the College of Behavioral and Social Sciences; the School of Architecture, Planning and Preservation; and the A. James Clark School of Engineering. Members will work on projects in Maryland and with partners in Israel, Nepal and Tanzania. International partners include scientists and practitioners at CultivAid, the Arava Institute, the Hebrew University of Jerusalem, Kathmandu University and Sanskriti Farms & Research Center. 
The Global FEWture Alliance will focus on research-to-action, capacity-building and experiential education and also serve as an "umbrella" organization, connecting people on campus who are doing related FEW nexus work, Sapkota said.
The alliance aims to integrate work across target areas including: 
Water reuse and ingenuity
Horticultural innovations
Renewable energy technologies
Bioprocessing
Decision support and early warning systems
Socio-behavioral, economic, regulatory and governance drivers and barriers
"Our long-term goal is to ensure community resilience to climate change, but this can only happen if food-energy-water solutions are supported and sustained from local to regional and national levels," Sapkota said. "An important part of this is grounding our work in a truly stakeholder-driven approach, engaging communities, non-governmental organizations, government agencies and partnering universities from day one."
For example, the team will work with universities and non-governmental organizations in partner countries to develop field training and degree programs. These programs will result in networks of trained professionals who can work effectively across government and non-governmental sectors to achieve food-energy-water solutions. 
Ultimately, communities and countries will sustain implemented solutions from within, without needing to rely on external grant funding in the long term. 
"This is how we can meaningfully address food, energy and water insecurity and advance global public health into the future," Sapkota said.
Other Global FEWture Alliance team members from the School of Public Health include:
Categories
Research
Faculty
Departments
School of Public Health
Maryland Institute for Applied Environmental Health