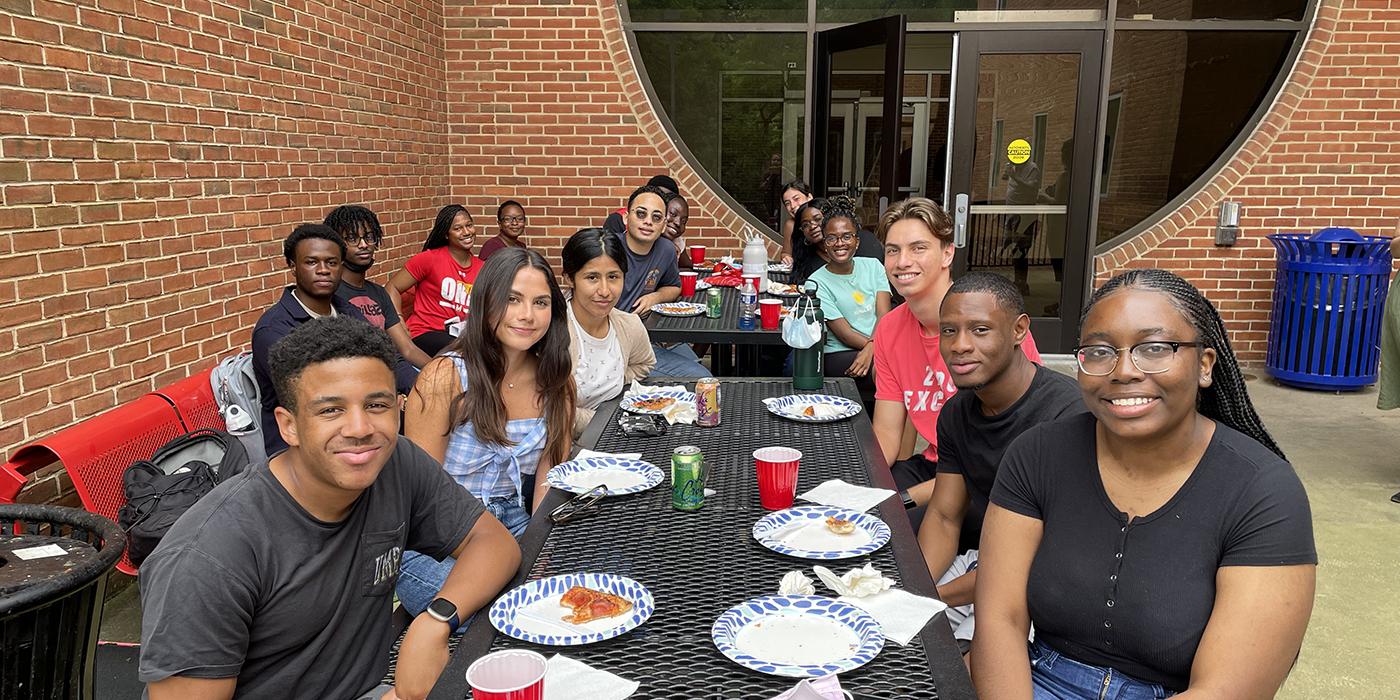 By Sala Levin '10
Fifteen years ago, kinesiology Professor James Hagberg decided that a key part of his work at UMD would be to develop a diverse group of young scholars who would go on to become the diverse future of public health research. Thanks to UM STAR and UM ADAPT, two programs that he co-founded, he's done it.
The two summer programs offer underrepresented or disadvantaged undergraduates the opportunity to live in College Park and conduct research with a School of Public Health mentor, as well as build their professional network and learn about options available to them in the field of public health.
UM STAR, the older of the two programs, was created in 2007 and is funded by a grant from the National Institutes of Health's National Heart, Lung, and Blood Institute. The STAR participants, who come from institutions across the country, focus on research related to cardiovascular disease. UM ADAPT, which is open just to UMD undergraduates, launched in 2013 and is funded by NIH's National Institute on Aging; its participants study issues relating to aging.
"In the beginning of this calendar year, I told myself I was going to join clubs and organizations that would get me out of my comfort zone, so that's what I did," said Victoria Ohanele '24, a public health science major in ADAPT. 
Working with Associate Professor Quynh Nguyen from the Department of Epidemiology and Biostatistics, Ohanele is contributing to two projects: building an app called Rosie that offers new and expectant mothers information about birth and parenting, and an upcoming analysis of how the Supreme Court's recent decision to overturn Roe v. Wade might affect health outcomes, based on Twitter reactions to the news.
For Rosie, Ohanele was given a list of questions new mothers might ask: How do I get my baby to latch while breastfeeding? What should I pack in my bag for the hospital? Ohanele was tasked with researching these and adding information to the app's database, which is searchable by users. She also thought of other questions an expecting mom might wonder about, like whether they can get a massage while pregnant.
Michael Ack, a rising sophomore studying biology at the University of Maryland, Baltimore County, is working with kinesiology Associate Professor Steven Prior to study how the levels of two mitochondrial proteins can impact the aging process.
Both students say that the experience–which culminates in a poster and oral presentation of their findings has helped them gain a surer footing in scientific research and broaden their understanding of post-graduate options, thanks to professional development sessions in which graduate students and faculty members discuss their paths in public health as people of color. A weekly journal club to talk about relevant studies and ethics training round out the programming.
Ohanele and Ack both say that living with their fellow participants heightens the camaraderie among the group, teaching them to be "good teammates," Ohanele said.
For Hagberg, the bonds developed through the programs have been the most valuable outcome. "I just love being with these kids for the summer," he said. "They're my family."
Departments
Department of Kinesiology
Department of Epidemiology and Biostatistics