Studying Airborne Infection Transmission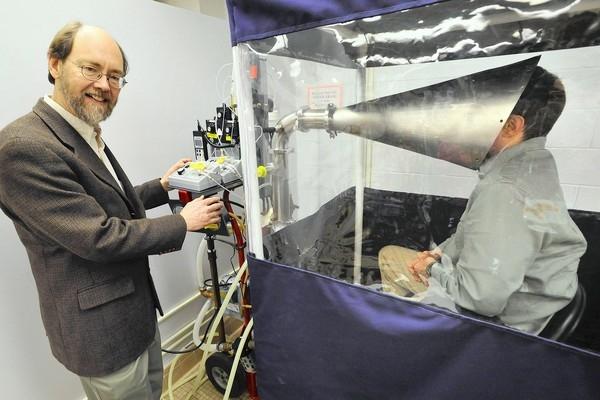 The laboratory supports studies of:
airborne infection transmission
influenza epidemiology
bioaerosol exposure in asthma
non-invasive monitoring of exhaled biomarkers
Capabilities of the lab include culturing viruses, RTqPCR, analysis of exhaled breath particles, bioaerosol sampling and immunoassay.
Office Phone Number: (301) 405-3142
Email: stopcovid@umd.edu
The PHAB Lab is led by Dr. Donald Milton. The lab studies infectious diseases and currently is studying COVID-19 in our StopCOVID study.
PARTICIPANTS ARE CURRENTLY BEING ACCEPTED.
TECHNICAL AND STUDENT ASSISTANCE IS CURRENTLY BEING RECRUITED FOR HIRING.
Inquire at stopcovid@umd.edu.
Our sponsors include:
UMD StopCOVID
Recent Publications From the UMD StopCOVID Team
Recent News Coverage of UMD StopCOVID Team Members
---
September 7, 2021 Maryland Institute of Environmental Health 688 Seminar:
Results of the UMD StopCOVID Study and High Efficiency Air Sanitation with Germicidal UV Light for Schools and Conference Rooms, presented by Jianyu Lai, MPH and Don Milton, MD, DrPH
View the zoom recording for MIEH 688 Seminar September 7, 2021.
Passcode: !+h8%j?Q
---
Infectious SARS-CoV-2 in Exhaled Aerosols and Efficacy of Masks During Early Mild Infection: We have analyzed the results of 13 months of the StopCOVID study. The manuscript is available at medRxiv.org [https://medrxiv.org/cgi/content/short/2021.08.13.21261989v1], and is undergoing review for publication.
Key points:
Cases exhale infectious viral aerosols.
SARS-CoV-2 is evolving toward more efficient airborne transmission.
Loose-fitting masks significantly but moderately reduce viral RNA aerosol.
Tight-fitting masks or respirators and ventilation/air cleaning are essential for worker protection in public-facing or crowded indoor workplaces.
Please also check out the article at Science News that talks about these results: https://www.sciencenews.org/article/covid-coronavirus-aerosol-droplets-airborne-evolution
---
Here's Why Mouthwash Is Not Going To Save You From Coronavirus. CNN.com (November 17, 2020).
UMD Scientists Say Vice Presidential Debate Needs Air Filtration System Due To Coronavirus. CBS Baltimore, October 7, 2020.
Beyond Plexiglass: Scientists Say This Simple Solution Could Keep VP Debate Safer. NPR, October 7, 2020.
The plexiglass barriers at tonight's debate will be pretty useless, virus experts say. New York Times, October 7, 2020.
Answering COVID's Big Questions on Campus. Maryland Today, October 6, 2020.
The Flu May Linger in the Air, Just Like the Coronavirus. The New York Times, July 14, 2020.
We Need to Talk About Ventilation. Tufekci Z. The Atlantic. July 30, 2020.
Recent Lectures by Members of the UMD StopCOVID Team
Virtual Press Conference on COVID-19 Science Letter October 5, 2020
Dr. Milton's lecture for MIEH 688: Infectious Drops and Aerosols September 22, 2020
University of California San Francisco Medical Grand Rounds July 16, 2020: Dr. Milton
A Conversation: What Do Science and Data Say About the Near Term Future of Singing May 5, 2020 Webinar
Principal Investigator: Dr. Donald Milton
Research and Clinical Faculty: Dr. Barbara Albert, Dr. Kristen Coleman, Dr. Jennifer German, Dr. Kate McPhaul, Dr. Sheldon Tai
Faculty Specialists: Dr. Filbert Hong, Isabel Sierra Maldonado, Louie Gold
Staff: Yi Esparza, Maria Schanz, Faith Touré, Rhonda Washington-Lewis
Graduate Research Associates: Jianyu Lai

Alumni: Dr. P. Jacob Bueno de Mesquita, Aaron Kassman, Michael Lutchenkov, Delwin Suraj, Dr. Somayeh Youssefi
See the website of our current project: UMD StopCOVID
Evaluating Modes of Influenza Transmission (EMIT-2)
Sponsor: National Institute of Allergy and Infectious Diseases
Participating Institutions/Departments: UMD SPH, UMD Clark School of Engineering, UMD CBMG; UMSOM in Baltimore; University of Hong Kong School of Public Health; Icahn School of Medicine at Mt. Sinai; Global Health Institute at the University of Wisconsin-Madison; University of Michigan School of Public Health; Aerosol Dynamics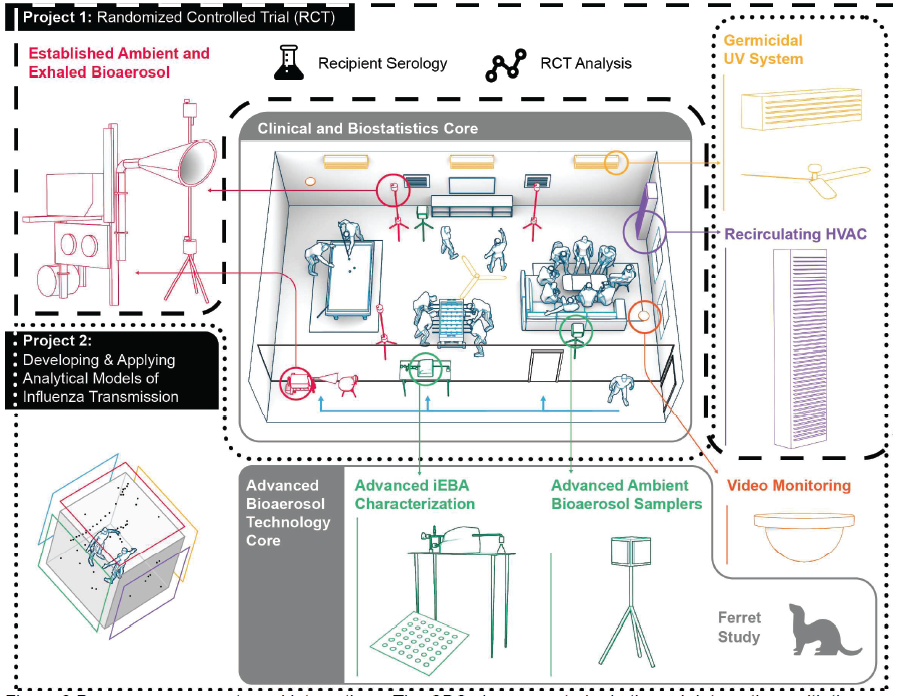 Project 1 (Evaluating Modes of Influenza Transmission using a Randomized Controlled Trial, EMIT-2-RCT)
Lead Investigator: Don Milton, UMD SPH
Co-Investigators: Ben Cowling, HKU SPH; Aubree Gordon, UMich SPH; Florian Krammer, Mt. Sinai School of Medicine
Identify the dominant mode of transmission using naturally infected influenza donors in an RCT of air sanitation-ventilation and hand hygiene-face shield interventions.
Determine the impact of aerosol exposure on disease severity.
Investigate the impact of serologic and mucosal antibody levels on influenza transmission, susceptibility and immunologic response to infection.
Project 2 (Developing and Applying Analytical Models of Influenza Transmission)
Lead Investigator: Jelena Srebric, UMD ENG
Co-Investigators: Aubree Gordon, UMich SPH; Gabriele Neumann, UWis GHI
Support the cohort study experimental setup: face shield, ventilation, UR-GUV application
Develop two analytical models for source characterization:
- A high-fidelity model to identify variability in risk due to temporal and spatial distributions of virus concentration.
- A well-mixed model (for well-mixed conditions) using CO2 as a stand-in to assess viral aerosol exposure and dose.
Apply the analytical models to house cohort & ferret studies
Clinical and Biostatistics Core (CBC)
Lead Investigator: Wilbur Chen, UMSOM
Co-Investigators: Justin Ortiz, Shuo Chen, UMSOM
Provide regulatory and safety infrastructure for a randomized controlled trial of influenza transmission.
Screen for health adult volunteers (Recipients), willing to temporarily reside on an inpatient containment unit for approximately 2 weeks during the influenza season, and index cases with acute influenza infection (Donors).
Expose un-infected eligible volunteers (Recipients) to influenza-infected index case patients (Donors).
Advanced Bioaerosol Technology Core (ABTC)
Lead Investigator: Don DeVoe, UMD ENG
Co-Investigators: Meg Scull, Gregg Duncan, UMD CMBG; Arantza Eiguren-Fernandez, Greg Lewis, Aerosol Dynamics; Yoshihiro Kawaoka, Gabriele Neumann, UWis GHI
Develop a compact platform for ambient sampling and culture.
Develop an instrument for efficient exhaled breath sampling.
Develop a hydrogel collection target and an optimized cell line for enhanced infectivity analysis.
Develop a digital culture microarray to study distribution of viable virus in aerosols.
Center for Research on Influenza Pathogenesis and Transmission (CRIPT) @ UMD
Human-to-Human Transmission Studies (aka the WhereFlu? Study)
Part of the NIAID Centers of Excellence for Influenza Research and Response (CEIRR)
Sponsor: National Institute of Allergy and Infectious Diseases (NIAID)
Principal Investigator: Don Milton (UMD SPH)
Co-Investigators: Kathleen Stewart (UMD BSOS), Jelena Srebric (UMD ENG), Charles Ma (UMD SPH)
Aim 1: Identify influenza outbreaks and hotspots for transmission and characterize ventilation of campus buildings to test the hypothesis that building ventilation at <5 L/s/person is associated with localized influenza outbreaks.
This cohort is meant to represent the population served by the University Health Center (UHC).
The influenza cases that present at the UHC are the core of the cohort.

The infection data will integrate with environmental data from:
Academic buildings
Campus shuttle buses
37 residence halls

Multiple neighboring apartment complexes
Longitudinal surveillance of influenza infections seen at the UHC, combined with geospatial and temporal analysis of residence, work/class location, and shuttle bus ridership, will identify outbreaks and hotspots.

Aim 2: Using data from UMD Dormitory Cohort studies and a counterfactual model matching influenza cases-contacts pairs from high and low ventilation residence halls, test the hypothesis that building ventilation <5 L/s/person is associated with increased risk of transmission.
Our Dormitory Cohrots are dynamic cohorts recruited annually from 1,500 undergraduate students in living-learning communities in five residence halls.
Collected from cases and contacts:

Questionnaires 
Biological specimens (sera, swabs, and PBMCs) 
Exhaled breath aerosol samples
Paired smartphone swabs

Counterfactual analysis of case-contact pairs in neighboring high- and low-ventilation buildings.
Our initial analyses with CRIPT will focus on existing samples and data from 2017-20 Prometheus@UMD cohorts.
PARTICIPANTS ARE CURRENTLY BEING ACCEPTED.
TECHNICAL AND STUDENT ASSISTANCE IS CURRENTLY BEING RECRUITED FOR HIRING.
Inquire at stopcovid@umd.edu.
Objectives: 
Find out how people transmit COVID-19 and how to prevent transmission:
How much airborne virus does an infected person exhale?
How much virus is released into the air when an infected person breathes, talks, or sings?
How well do surgical and homemade masks block release of airborne virus?
Another goal is to gather samples that can be used to better understand how the body fights the infection.
Equipment:
Kingfisher Duo nucleic acid preparation workstation
QuantStudio7 with TaqMan Array Card qPCR system
Two Qiagen QiaCube robotic nucleic acid preparation workstations
Agilent Mx3005P qPCR system
Biotek ELX808IU and FLX800TBIE visible and fluorescence temperature controlled kinetic microplate readers,
three CO2 incubators,
a biosafety cabinet,
two Gesundheit-II human exhaled aerosol collectors (an additional device at National University of Singapore)
a human exhaled aerosol droplet sampler with cryogenic impactor ("IcePac")
four Pulmatrix Exhalair exhaled particle analyzer and collectors
assorted aerosol generators for liquid droplet and dry aerosols
HEPA filtered glove box and large chamber for aerosol containment
Vaisala CO2 monitors
air sampling pumps
and upper-room UVC fixtures.
Prometheus@UMD (2017-2020)
Website (historical): https://catch.umd.edu
Sponsors:
Biomedical Advanced Research Development Authority (BARDA) ENACT: https://drive.hhs.gov/enact.html
Objectives:
Identify and characterize contagious phenotype of acute respiratory infection (ARI)
Identify biomarkers of infection and contagiousness
Test wearable sensors for early detection of ARI & outbreaks
Collect PBMCs for identification of epigenetic markers of infection
Characterize the role of aerosols and built environment in ARI transmission
Description of Effort:
Enroll a longitudinal cohort and obtain baseline serology
Identify index cases of ARI using 45plex TAC assay & enroll contacts
Follow contacts with daily respiratory swabs and blood samples
Characterize viral shedding in resp. & fomite swabs, and exhaled breath
Confirm transmission events through phylogenetics sequencing
Monitor indoor environment CO2, temperature, rel. humidity, and estimate re-breathed air exposures
Analyze peripheral blood via RNA sequencing from days before onset of infection for biomarkers of infection and contagiousness
Capabilities/Scope:
Cohort in the Wild
Fully computerized consent, questionnaire, & lab data collection
Daily surveys for respiratory symptoms (via text SMS)
Built Environment – natural experiment – high/low ventilation dorms
Virology and Infectious Disease (PHAB Lab & Frieman Lab at UMSOM)
Bioinformatics, Biostatistics (phylogenetics, machine learning)
Antigen arrays/Immunome (Felgner Lab at UC-Irvine)
Aerobiology and exhaled biomarkers (aerosol shedding)
Mechanical Engineering (indoor air, ventilation)
Computer Science (location tracking)
Student research assistants – lab and clinical experience
Milestones:
Year 1 (spring 2017): $1.6M
Longitudinal cohort: 74 students
72 ARI cases; 60 contacts followed; PAXgene: 123 total, 7 Day 0/-1
9 Flu A, 1 FluB, 15 AdV, 3 RSVA, 9 RSVB, 25 hCoV, 4 hPIV
Year 2 (2017-2018): $2.5M
Longitudinal cohort: 284 students
76 ARI cases; 70 contacts followed; PAXgene 193 total, 8 Day 0/-1
6 Flu A, 9 Flu B, 5 AdV, 4 RSVB, 24 hCoV, 13 hPIV, 1 hMPV
Year 3 (2018-2019): $2.9M
Longitudinal cohort: 575 participants
211 ARI cases screened; 137 contacts followed
PAXgene: 927 total, 44 Day 0/-1; PBMC 339 total, 43 acute ARI
Daily text message, average response rate: 248
Wearable devices deployed: 150; 29 validated ARI among users
27 Flu A, 4 AdV, 3 RSVA, 6 RSVB, 56 hCoV, 11 hPIV, 11 hMPV
Year 4 (2019-20): $2.1M
Wearable devices cohort: 250
78 ARI cases screened; 46 contacts followed
PAXgene: 384 sample-days, 32 Day 0/-1
3 Flu A, 6 Flu B, 1 RSVA, 1 RSVB, 18 hCoV, 2 hPIV, 7 hMPV