The Office of Public Health Practice and Community Engagement is a team effort that involves UMD SPH faculty, staff, students, and alumni, the broader UMD community, and residents and leaders in all 23 Maryland counties and Baltimore City. We have a key team within the School of Public Health that helps to move the work forward.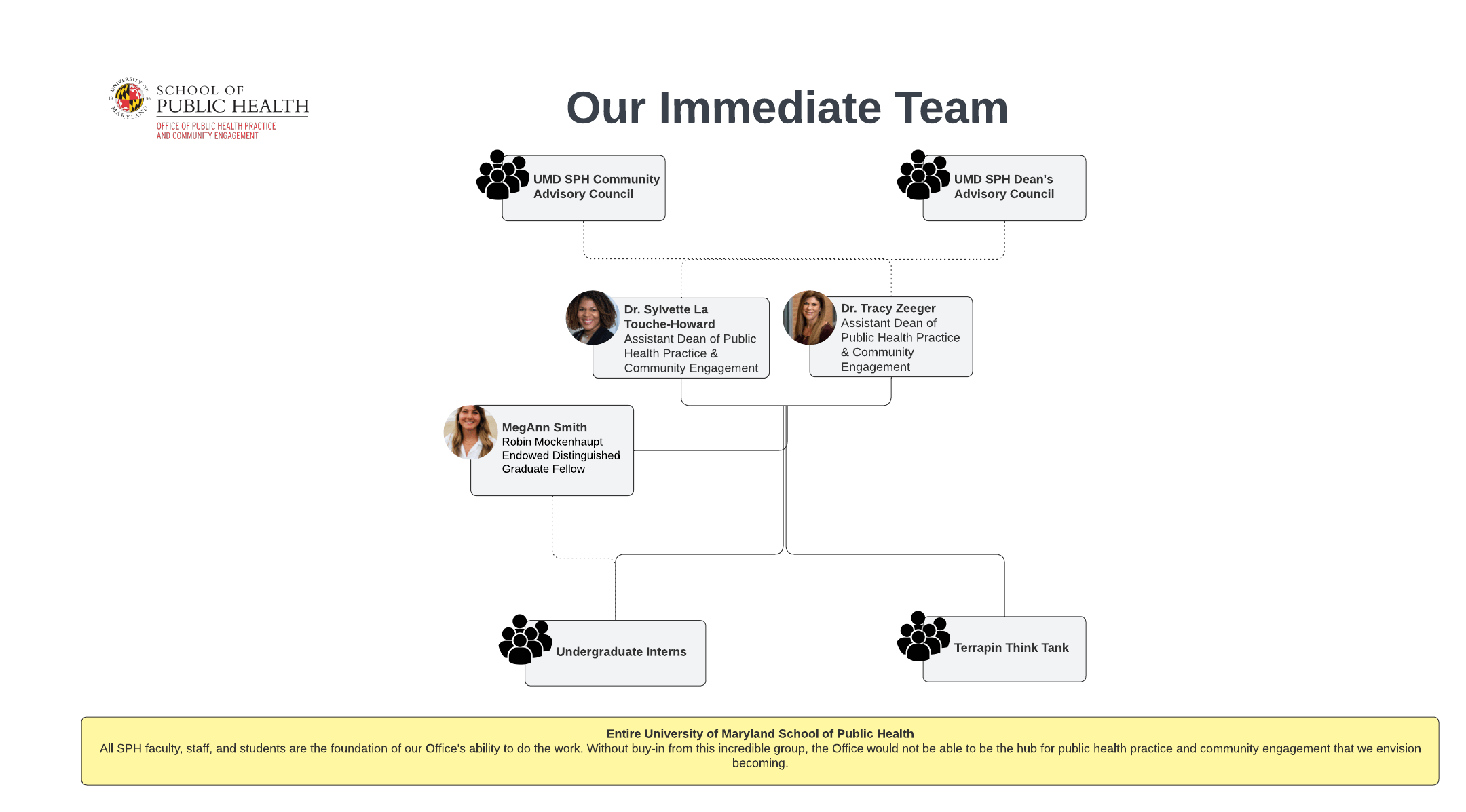 The SPH team is guided by two community groups: the SPH Community Advisory Council and the SPH Dean's Advisory Council. We have co-deans, a Robin Mockenhaupt Distinguished Graduate Fellow, and five Undergraduate Interns. View and download our organizational chart.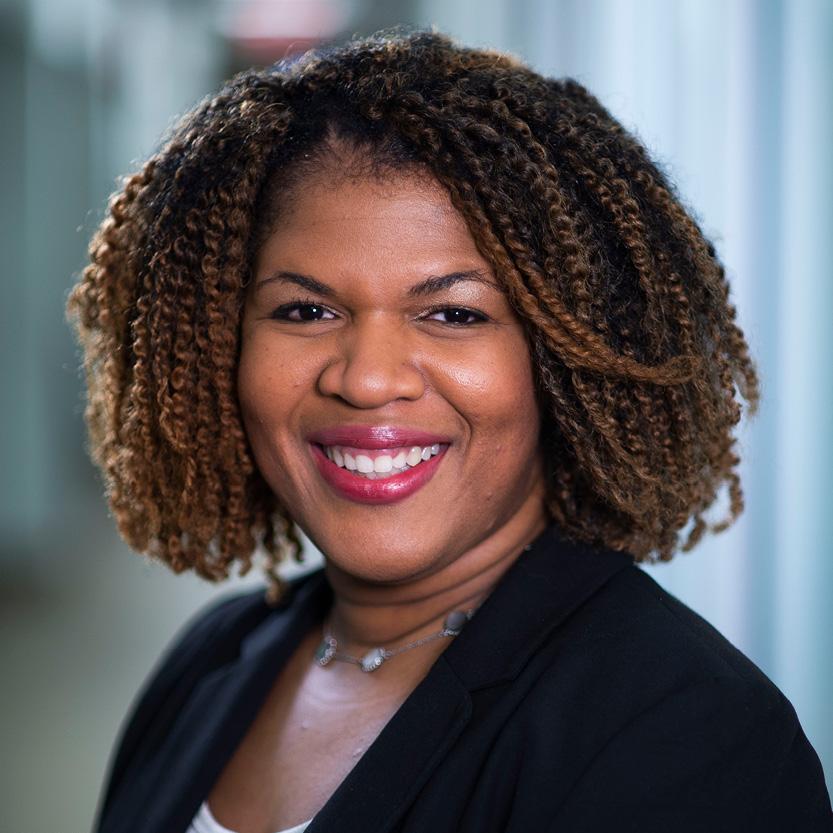 Sylvette La Touche-Howard (she/her)
Assistant Dean, Community Engagement
Dr. Sylvette La Touche-Howard's passion lies in proactively working with individuals and communities to bridge behavioral health, research and social impact to create a sustainable and equitable future. She joined the SPH faculty as a lecturer in 2013 after earning her PhD in Behavioral and Community Health at the University of Maryland. She received her BA in Psychology and Women's studies from McGill University and an MA in Mental Health Community Counseling from Andrews University. She teaches undergraduate and graduates courses that serve to instill students with the foundations of public health so that they can apply them to real-world problems by designing community-based initiatives. Alongside teaching and serving as the inaugural Assistant Dean of Community Engagement, Dr. La Touche-Howard serves as the Program Coordinator for the SPH Accelerated BS-MPH/MHA program. Dr. La Touche-Howard also acts as a liaison between the School and the local county health department by working on policy, systems, and environmental change initiatives.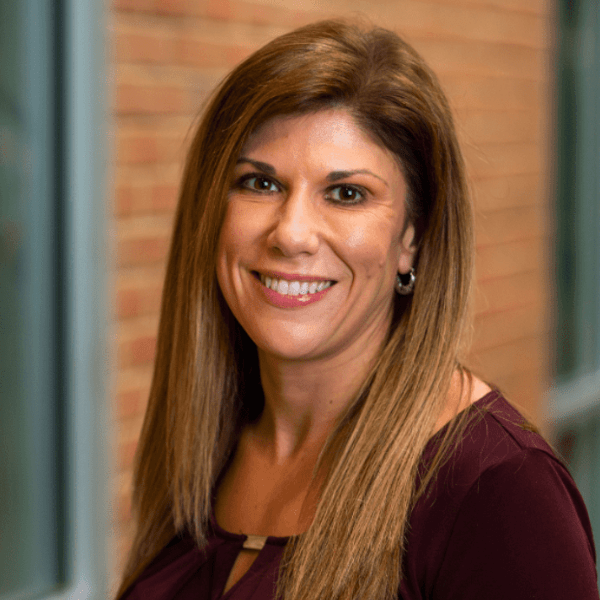 Tracy Zeeger (she/her)
Assistant Dean, Public Health Practice
Dr. Tracy Zeeger received her BS, MPH, and PhD all from the UMD School of Public Health. She began her work at the university developing/implementing health education programs on exercise, nutrition and stress management for the University Health Center. Dr. Zeeger joined the SPH faculty in 2011 as a lecturer and academic advisor. Since 2019, she has been the Director of Undergraduate Studies for the department of behavioral and community health. In this role, she has helped develop and assess anti-racism and professional development competencies. She has been a mentor to students as faculty advisor to the Epsilon chapter of Eta Sigma Gamma (a national health education honorary). Dr. Zeeger has worked with the Society for Public Health Education as chair of the Professional Preparation working committee; presented to the Association of Schools and Programs in Public Health on practice-based curriculum design; and served on the Board of Directors for the National Case Study Competition in Health Education. Her research interests include exercise among adolescents/young adults and professional readiness/educational outcomes of the students she serves.
Affiliated Faculty
We are currently in the process of nominating our first group of Affiliated Faculty Members. Criteria for Affiliated Faculty include:
High-level demonstration of public health practice and/or community engagement in research, teaching, and/or practice activities
Availability to participate in at least two Office of Public Health Practice and Community Engagement Learning Collaborative Meetings each year
Commitment to furthering the Office's mission and vision for public health practice and community engagement
Complete the form below to nominate yourself or someone else to be considered! Or submit your nomination via this Google form.
MegAnn Smith (she/her) is the Robin Mockenhaupt Endowed Distinguished Graduate Fellow for the Office of Public Health Practice and Community Engagement. She joined the UMD SPH to work toward her PhD in Behavioral and Community Health in the fall of 2022. She received her BS in Biology and Health Sciences from Guilford College and MPH from The Brown School of Social Work at Washington University in St. Louis. Most recently, MegAnn worked for the North Carolina Division of Public Health where she strived to center lived experiences and advance equity in injury and violence prevention. She is dedicated to dismantling systems of oppression through authentic community engagement and power sharing. MegAnn grounds her public health practice in cultural humility, radical listening, and a commitment to equity.
Nasreen Bhumgara (she/her) is a senior Public Health Science major on a pre-physician associate track at the University of Maryland.  Her public health interests lie within community health and health disparities, specifically systemic racism.  She plans to use her career to work towards health equity.
Paige Brown (she/her) is a sophomore Behavioral and Community Health major, minoring in Sociology at the University of Maryland. She's always had a strong passion for helping others within her community. She's passionate about looking for ways to combat inequalities such as food insecurity or lack of health care. She is currently an intern in the Public Health Department of Community Engagement, working to explore the field of Public Health practice and further examine real world problems in our neighboring communities.
Mina Tzoukermann (she/her) is a senior Behavioral and Community health major and a full time intern at the Office of Public Health Practice and Community Engagement. Mina has been involved in social justice work from a young age and plans to utilize her public health skills to work towards a healthcare system that is equitable for all. She is interested in prison reform, women's and children's health, as well as holistic approaches to health. She also enjoys being creative and would love to intersect her interests in art and community health throughout her career. 
---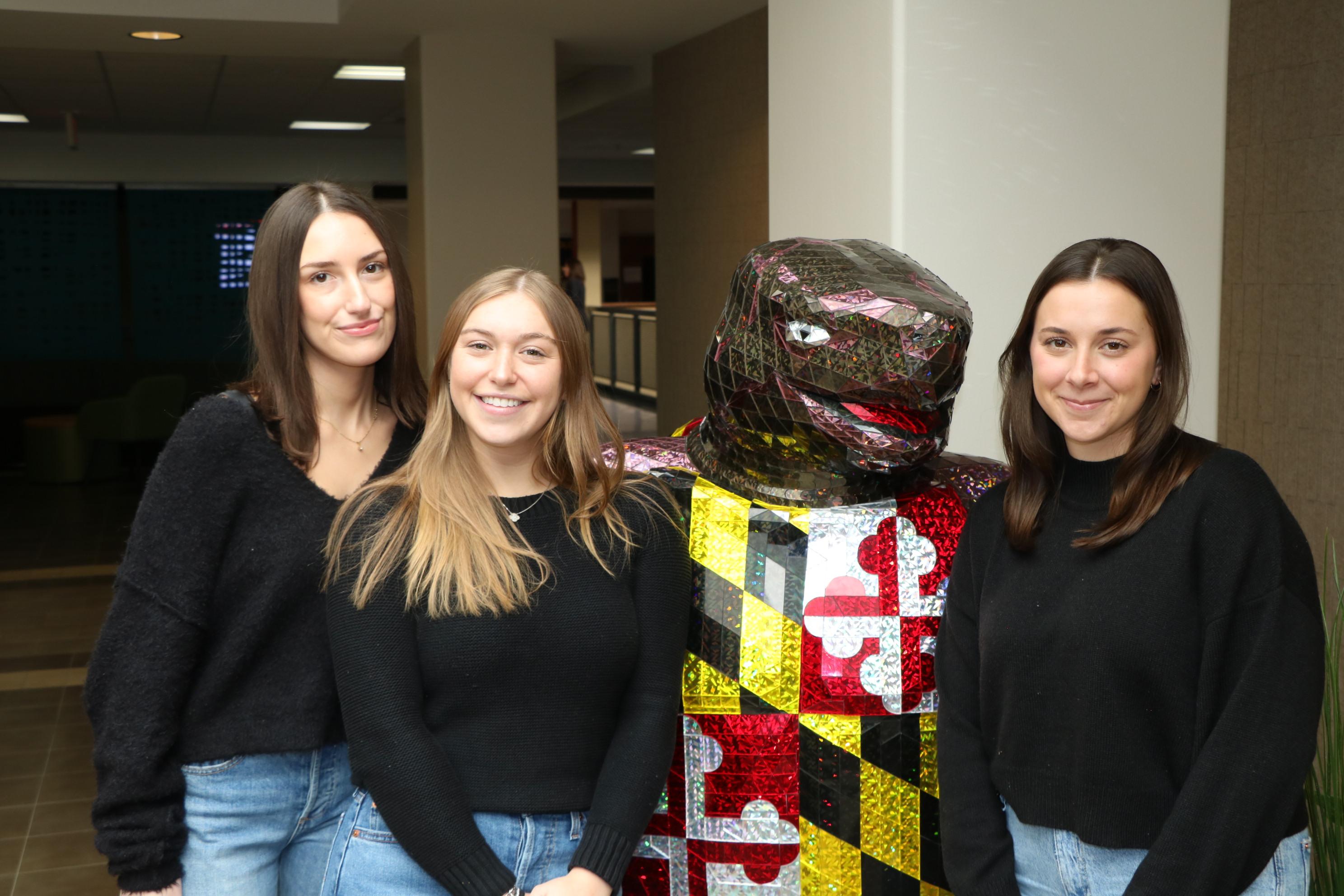 During the Spring 2023 Semester, we have additional part-time intern support from the UMD SPH Happiness and Wellness Initiative Interns!
Daniella Hanau (she/her) has a passion for public health and working on a team to support awareness of health issues, specifically mental health, and well-being. Daniella embraces leadership opportunities and brings a diligent work ethic to collaboration with her peers. She is a true people person who loves to socialize and connect. Daniella is a senior majoring in Behavioral and Community Health and minoring in Human Development/College of Education with an expected graduation in Spring 2023. She is excited and eager to begin her public health journey and career.
Olivia Horowitz (she/her) holds a passion for wellness and mental health and has a professional interest in promoting wellness through community outreach, especially via social media. Olivia strives for success through teamwork and effective communication. Her mission is to promote healthy habits and wellness techniques to reach student peers and the larger community. Olivia is a senior in the Department of Behavioral and Community Health working towards earning her bachelor's degree in Spring 2023. She is excited to begin her journey in the public health profession by completing her capstone internship with the UMD SPH Happiness and Wellness Initiative!
Corinne Yelsits (she/her) is from Long Island, New York, and possesses a passion for wellness. Corinne's main interests in the field include nutrition, mental health, and physical activity. She is excited to work in public health, where she can practice what she loves. Corinne has a collaborative spirit and strives to have a positive impact on everyone she meets. She is a Behavioral and Community Health undergraduate in her final semester at the University of Maryland. Corinne is looking forward to working on this campus-wide initiative and is excited to promote the benefits this programming brings to the health of the UMD community, as well as how this work will shape her future endeavors.