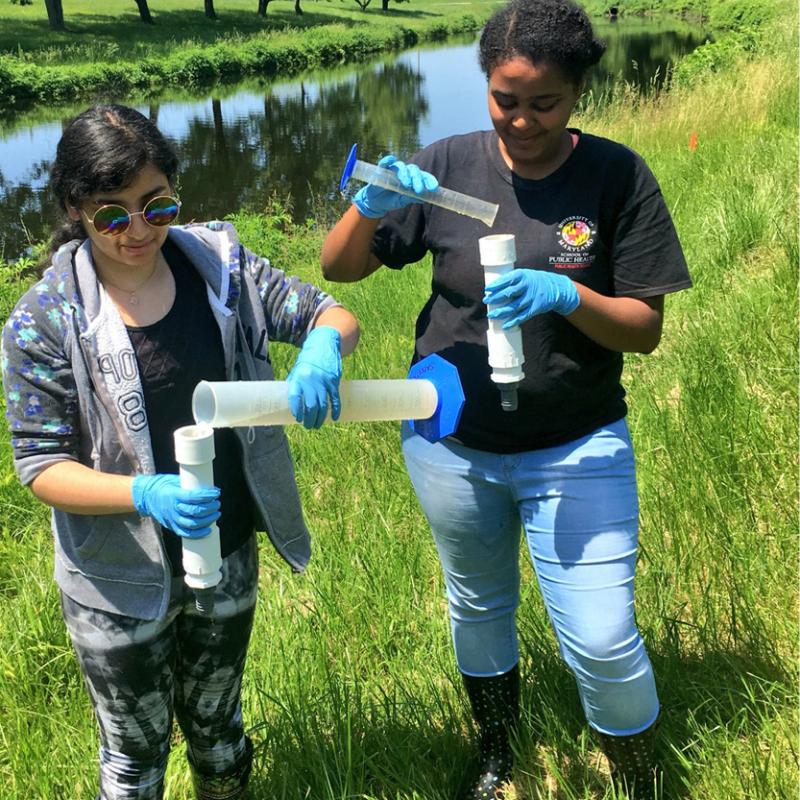 Understand and mitigate environmental hazards to promote human health and well-being
Environmental health explores the human impacts of environmental hazards (air, water, soil and food) on human health in the context of socio-cultural, economic, work and family environments.
Perfect for...
Individuals seeking early graduate training to support future PhD applications
Individuals with overlapping interests in engineering, medicine, health policy, agriculture, epidemiology, computer modeling, chemistry, microbiology or geography
Career Paths
State departments of health environmental officer
Federal agency environmental officer
Academic researcher
Industry researcher
Medical professional
The M.S. and Ph.D. programs in Environmental Health Sciences have a two-part application process. Applicants must submit the SOPHAS application, the centralized application service for schools and programs of public health and the UMD Supplemental application. Both applications must be submitted and verified by the scheduled deadline. Applications will be reviewed when the SOPHAS and the UMD Supplemental applications are completed.
General Admission Requirements
A Bachelor's degree

Minimum 3.0 undergraduate GPA

At least one undergraduate math course (M.S. applicants)

Transcripts from all previous coursework

English proficiency test score (TOEFL, IELTS or PTE) (

international applicants

)

Statement of purpose and objectives including career and educational goals, professional experience, and research areas of interest
Program Specific Requirements
SOPHAS application & UMD Supplemental application

Three letters of recommendation

Resume or curriculum vitae

Ph.D. applicants: a master's degree in public health or a related field preferred

Fit between applicant's goals and expectations and program degree competencies

Writing sample: such as a published manuscript, undergraduate or graduate thesis, research paper. If you submit a published manuscript and you are not the first author you should describe the contributions you made to the publication.

Applicants being considered for the program will be invited for a virtual interview with MIAEH faculty members. 
*The review committee will evaluate GRE scores if they are submitted. The lack of scores will not impact applications. If submitted, the program considers competitive scores to be 50th percentile or higher in each of the three parts.

Note: Coursework in environmental health or science, or public health/public policy, or biological/chemical sciences, or biochemistry, or biotechnology, or engineering, or geography/geology, or math, or biostatistics, or epidemiology, or medical sciences, or anthropology, preferred.  
Please visit the Course Catalog and SPH website for more details.
Students in the M.S. program in Environmental Health Sciences complete an essential core of knowledge in environmental health, epidemiology and biostatistics, in addition to a laboratory rotation, an ethics course and a seminar course.
32 credits including thesis and rotation with a faculty member.
---
| Course Module | Course Name | Credits |
| --- | --- | --- |
| Core Cohort Based Courses | | |
| (26 Credits) | MIEH600 Foundations of Environmental Health | 3 |
| | MIEH720 Principles of Toxicology | 3 |
| | MIEH740 Environmental Health Risk Assessment | 3 |
| | MIEH771 Exposure Assessment of Environmental Hazards | 3 |
| | SPHL602 Foundations of Epidemiology and Biostatistics | 4 |
| | SPHL603 Public Health Data Laboratory | 1 |
| | MIEH609 Methods in Environmental Health | 3 |
| | SPHL611 Public Health Ethics or SPHL612 Research Ethics | 1 |
| | MIEH688 Seminar in the Maryland Institute for Applied Environmental Health: Current Topics in Environmental Health | 2 |
| | SPHL600 Foundations of Public Health | 3 |
| Thesis | MIEH799 Master's Thesis Research | 3 |
| Non-thesis | MIEH789 Independent Study | 3 |
| Elective | | 3 |
*In order to meet the academic standards of MIAEH, Students must achieve a grade of B- or higher in all required courses (ie: all MIEH and SPHL courses). Failure to meet this requirement will result in the need for a student to retake a course in which they earn a C+ or lower.
Demonstrate a comprehensive understanding of the interdisciplinary field of environmental health.
(for M.S. non-thesis project students) Develop a testable hypothesis that would advance the field of environmental health.
(for M.S. thesis students) Design and conduct a research study, analyze data and test a hypothesis that advances the science of environmental health