The Changing Hearts and minds About Institutional Racism (CHAIR) project is extending the reach and scalability of trusted Black barbers/stylists using human-centered design and innovative technology to catalyze community-driven collective action promoting health and racial equity.
Executive Summary 
CHAIR will build trust, foster anti-racism, and reduce inequities by mobilizing Black barbers and stylists who are credible, trusted community influencers to collaborate with community leaders (e.g., health care, education, business, criminal justice and public health) to co-create, implement, and evaluate innovative community-based solutions to promote racial equity. Beginning with two socially vulnerable communities, human-centered design sessions with community members will identify local opportunities to address systemic inequities. Stakeholders in those systems will be invited to participate in immersive, mixed-reality simulations modeled on interactions that take place in Black barbershops/salons. With barbers/stylists as simulation specialists, trusted dialogues will increase readiness of simulation participants to collaborate in additional human-centered design sessions to co-create and implement collective, transformative actions to promote racial equity. Impacts will be assessed on individual simulation participants, organizations, and communities based on the collective actions taken. CHAIR will be iteratively refined as it is scaled to 10 communities.
 

Our Team 

Drs. Thomas and Linnan are building on decades of community-based collaborative projects in Maryland and North Carolina, particularly engaging with Black beauty salons, barbershops and workplaces at the local and national levels. They will leverage these existing relationships for the foundation of this project's initial steering committee. They are recognized as national experts for partnering with owners, stylists/barbers, and customers on effective health interventions in these settings. Our team has demonstrated expertise in collaborating with business and industry to produce effective interventions for workers, businesses and communities where they are situated. 

Health Enhancement Resource Organization (HERO) is a national thought leader in organizational best practices to promote health and well-being. The HERO team, including Senior Research Fellow Sara Johnson, has convened executive leaders nationwide for over 20 years, awarded grants to encourage the private sector to address community health needs, sponsors two of the country's largest conferences on best practices in employee and community well-being, and developed the HERO Scorecard which has now been completed by over 2000 companies. HERO's Senior Fellow, Paul Terry, is a Kellogg Leadership Fellow (Group XV). All members of the team have been involved with health equity and anti-racism work, including Dr. Thomas who leads the UMD Center for Health Equity, and our avatar-based simulation partner who specializes in racial equity and was named one of the ten most innovative companies of 2020 by "Fast Company" magazine. Together, this team is uniquely positioned to undertake and successfully complete this ambitious project.
Biographies of Key Staff 
Dr. Stephen Thomas is Professor, Department of Health Policy and Management at the University of Maryland and Director, Maryland Center for Health Equity (M-CHE). One of the nation's leading scholars concerning racial and ethnic health disparities, Dr. Thomas has studied conditions from which minorities generally face poorer outcomes. His findings informed Bill Clinton's Presidential Apology to survivors of the Tuskegee Syphilis study. Dr. Thomas' research showed how the legacy of the study presaged the African American community's distrust of medical research.  Dr. Thomas is the recipient of the David Satcher Award and the Alonzo Smyth Yerby Award from Harvard's School of Public Health.
Dr. Sara Johnson is co-President & CEO of Pro-Change Behavior Systems, Inc., and Senior Research Fellow at the Health Enhancement Research Organization (HERO) where she leads research on the HERO Scorecard. She is also the Co-Editor of Knowing Well, Being Well and Conference Chair of the Art and Science of Health Promotion Conference. Dr. Johnson has been the principal investigator on over $6 million in National Institutes of Health grants to examine the effectiveness of health and well-being interventions and has worked extensively with businesses to assess employee health needs and design interventions based on readiness to change theory.
Dr. Laura Linnan, professor in the Department of Health Behavior and founding director of the Carolina Collaborative for Research on Work and Health, serves as the Senior Associate Dean, Academic and Student Affairs for the Gillings School of Global Public Health. Her teams apply community-based participatory research approaches to develop and test interventions in multiple community settings, primarily worksites and beauty salons/barbershops. Dr. Linnan's research includes national surveys of current employer practices in employee health and well-being initiatives. Linnan and Sara Johnson are recipients of HERO's Mark Dundon Research Award which recognizes America's top researchers in worksite health promotion.
Path to Impact
Racism is a complex, underlying cause of inequities. Our solutions must be multi-layered to address this complexity. Following a holistic approach, we will intervene and evaluate efforts at multiple levels: individual (white participant in simulation), interpersonal (Black barber/stylist avatar interactions with white simulation participants), group (e.g., organizational scores on best practices in DEI scorecard), and community (programs, policies, community metrics). The Stages of Change Model will be applied at both the organizational and individual levels to measure readiness to embrace anti-racism as a core value.
Community Engagement
"Nothing About Us Without Us" is a self-evident feature of CHAIR, where white community members, local stakeholders and the barbers/stylists will be the driving force in the development, implementation, and refinement of culturally tailored community-based initiatives generated through human centered design sessions. Trained as simulation specialists, Black barbers and stylists are the agents of change, serving as the intelligent inspiration for using a virtual reality platform to infuse their wisdom into development of the human driven avatar-based simulations. The CHAIR steering committee, white community stakeholders, and their constituents (e.g., healthcare workers, police officers, educators, employers, employees of local businesses, financial professionals, etc.) and Black community groups will actively participate in the human-centered design sessions to collaboratively identify the highest priority needs and to co-create and implement community actions to promote racial equity and anti-racism. Black and white community members and local organizations will define success, refine and continuously improve the strategies they will use to advance racial equity.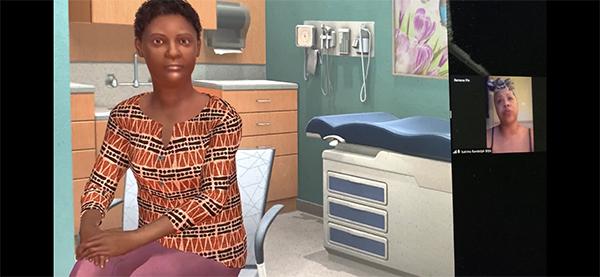 Innovation
Throughout the history of Black people in America, in times of crisis they turn safe havens, "places of refuge and restoration." From the church to the barbershop/salon, these community assets provide trustworthy advice and buffers against everyday racism.  Additionally, we elevate the communication styles of barbers/stylists as influencers, effective networkers and enablers of social change. Embodying their lived experience and wisdom in a scalable, virtual reality simulation with human-driven avatars that can offer immersive, repeated opportunities for authentic practice of antiracist thoughts and behaviors.  Working together in human centered design sessions, Black and white people will co-create the simulation conversations and the sim-specialists (Black barber/stylists) will engage white participants in situations designed to transform attitudes and beliefs into collective actions aimed at dismantling systemic racism in each community. The emerging science of immersive virtual reality with the intelligence of, human-driven avatars creates real life simulations that effectively allows the human brain to "believe this simulation experience is real and, as such, the participant is inclined to suspend disbelief, be their true self, take risks, make mistakes, and learn new ways of thinking." The CHAIR campaign combines the technology of computer simulation with robust theoretically driven, multi-level interventions in a true holistic approach to promote progress along the journey toward proactive anti-racism/allyship within individuals, organizations, policies, and institutions. 
Take Home Message
Black barbers/stylists have long been trusted community members and confidants to their customers. Barbershops and salons are community hubs, sacred and safe places for challenging conversations. Their longstanding, trusted relationships with their customers and their lived experiences make them uniquely suited to be simulation specialists who can help white community members navigate these racialized conversations. Using human centered design, we will infuse the wisdom and communication styles of barbers/stylists into an innovative, immersive simulation platform capable of scaling up the intervention to address racism and other causes of inequities communities identify.  Barber Freddy Spry described his experience as a peer educator: "They train us and we're going to train the community, one by one, in the chair." The CHAIR campaign builds on the success of previous evidence-based barber/stylist trainings to create collaborative forums in which barbers/stylists combine their wisdom and lived experience with community stakeholders to co-create innovative workplace and community-based solutions to promote racial equity.
Videos
Health Advocates In-Reach and Research Campaign (HAIR) takes internists to Maryland Barbershops
Health Advocates In-Reach and Research Campaign (HAIR) takes internists to Maryland barbershops from Gabriela Martinez on Vimeo.
Join the Health Equity Movement
In 2015, The Maryland Center for Health Equity celebrated its 5th anniversary as a NIH/NIMHD Center of Excellence on Race, Ethnicity and Health Disparities Research within the UMD's School of Public Health. 
Showcasing two of the University of Maryland School of Public Health's outreach programs, the film focuses on The Mission of Mercy & Health Equity Festival, an emergency dental clinic, sponsored and funded by M-CHE and HAIR, a community barber shop where customers can learn about the importance and dangers of preventable chronic diseases such as hypertension, diabetes, asthma and some cancers.
News and TV Coverage
AFP News Agency @AFP
VIDEO: Barber Mike Brown has made it his mission to raise awareness around misinformation over Covid vaccines as he gives his African-American customers a new haircut
VIDEO: Barber Mike Brown has made it his mission to raise awareness around misinformation over Covid vaccines as he gives his African-American customers a new haircut pic.twitter.com/jJxxBGHqvg

— AFP News Agency (@AFP) March 2, 2021
New Day Weekend With Victor Blackwell and Christi Paul 7 33am CNN SUN 3 14 21 Dr Thomas Katrina R
52 views•Premiered Mar 14, 2021
#SamanthaBee #FullFrontalSamB
How Local Barbers Are Getting The Black Community to Trust the Covid Vaccine
36,916 views Mar 11, 2021
Photo Gallery