Information for Prospective Members
The University of Maryland Gymkana Troupe offers University of Maryland students a unique and incredible opportunity to be a part of an amazing performance team with an important mission. That mission is to serve as ambassadors for the School of Public Health, inspiring healthy choices through their gymnastics and acrobatic performances. Founded in 1946, the Troupe has existed and thrived for decades through its core values of leadership, integrity, family, and effort. There is no other program in the country like Gymkana, which provides its members a safe space to grow as athletes, showcase their talents, gain invaluable experiences and create unforgettable memories and friendships.
All team members are drug-free athletes to help set a positive example for others, especially their young audiences. Each member is a current student at University of Maryland, College Park. Gymkana's philosophy has always been that anyone can be taught gymnastics, so it is open to anyone regardless of their experience level. No auditions or try-outs required. Regular attendance of practice, events and meetings are required for membership. If you're interested, stop by a practice dressed for physical activity and speak to an officer or coach for more information!
Practice times (subject to change) are:
Monday 4:00-6:00pm
Tuesday 4:00-6:00pm
Wednesday 6:30-9:30pm (mandatory)
Thursday 4:00-6:00pm
Friday 9:30am-12:30pm
We are located in the School of Public Health Building, Gymnastics Gym (room 1120)
Want to learn more? Contact Head Coach Josh Montfort at montfort@umd.edu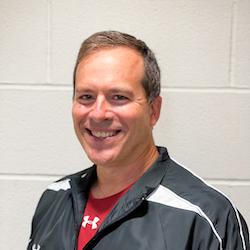 Director and Head Coach - Josh Montfort
Mr. Joshua Montfort first came to the University of Maryland and the Gymkana Troupe in the fall of 1989. As a Gymkana team member he held leadership positions such as Vice-President and Equipment Committee Chair. He also won two Best Act Awards, the George F. Kramer Award, and the David A. Field Best Trouper Award. During his time at the University of Maryland, he received a Bachelor of Science degree in Physical Education in 1993 and received the Outstanding Senior Award for the College of Health and Human Performance (currently the School of Public Health). Josh also earned a Master of Science degree in Psychology of Sport in 1996.
Josh has been a gymnastics coach for over 30 years. He began his career by coaching gymnastics and diving for local area teams. During his time on the troupe, he also coached the Gymkana Summer Camp. Following graduation, Josh was hired as an assistant coach for the Gymkana Troupe and has been coaching the group ever since. In 2001, he was appointed the Assistant Director of the Gymkana Troupe, Gymkana Summer Camp, and Gymkana Saturday Program. In 2012, Josh was appointed the Director and Head Coach of the Gymkana Troupe, Gymkana Summer Camp, and Gymkana Saturday Program.
In addition to his roles with Gymkana, Josh taught physical education in the public schools for five years. He is also the current gymnastics facility coordinator and an instructor in the Department of Kinesiology in the School of Public Health at the University of Maryland.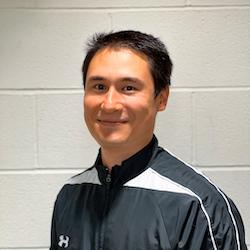 Assistant Director and Coach - Ben Prescott
Ben was a member of the Gymkana Troupe from 2004-2008. During his membership, Ben was a recipient of the Best Trouper Award in 2006 and Best Act Award in 2005, 2006, and 2007. He served one term as the Troupe's Historian and two terms as President.
Ben graduated from the University of Maryland with a Bachelor of Science degree in Kinesiology and joined the Gymkana coaching staff in 2008. Ben also holds a Master of Science degree in Exercise Science and Health Promotion with a concentration in Performance Enhancement and Injury Prevention. He is a Certified Strength and Conditioning Specialist with the National Strength and Conditioning Association and a Performance Enhancement Specialist with the National Academy of Sports Medicine.
In addition to his coaching role, Ben primarily manages Gymkana's class programs, communications, and development activities.
Angie Prescott
Angie was a member of the Gymkana Troupe from 2001-2006. While a member she served as Vice President, was awarded Best Trouper in 2006 and won a Best Act Award with the Chairs Act in 2005. While on the team, her favorite acts were chairs, balancing, vaulting, and DMT. After graduating from the University of Maryland, College Park in 2006 with a BS in Kinesiology, she began coaching the Troupe in 2007. Angie received her Doctorate in Physical Therapy from the University of Maryland, Baltimore in 2009.
She married Ben Prescott in 2014 & they have a son named Kyler who also seems to love being around Gymkana as much as his parents do.
Angie is the owner of ACRO Physical Therapy & Fitness, and treats patients full-time. With over 25 years of experience in the sport of gymnastics and extensive training in injury prevention, rehabilitation and orthopedic physical therapy, Angie enjoys the opportunity to keep the Gymkana athletes healthy and on their feet.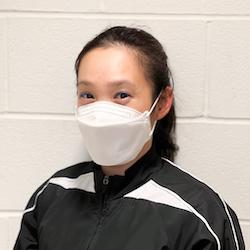 Faith Kung
Prior to coming to UMD, Faith was a dancer and competitive figure skater. As a student in the Biological Sciences graduate program, she was wowed by Gymkana Home Show and started on the Troupe in 2013 to fulfill a childhood dream to do gymnastics. While on the team, her favorite acts to perform were silks and ladders. She served as Costume Chair for a year.

Since graduating, Faith has continued her career as a molecular biologist. She stays active and has trained on various circus apparatuses, including lyra, static and flying trapeze, and German wheel. She has been a teacher/coach for many years and enjoys seeing students achieve goals, master skills, and put on a great performance.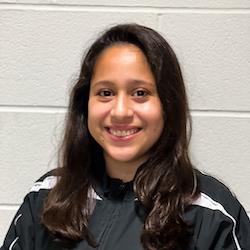 Emma Oroxom
Emma is a University of Maryland graduate with two degrees, one in Family Science and another in Behavioral and Community Health.  During her time on Gymkana from 2015-2018, she performed in pyramids, ladders, balancing, uneven, and vaulting. During her time as a member and after graduation, she enjoyed coaching in Gymkana classes and summer camp.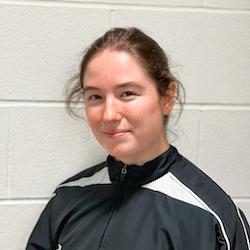 Megan Miller
Megan was a trouper from 2017-2022, and served as Treasurer for two years and Script Chair for one year. While on Gymkana, her favorite acts were Beam, DMT, and Ladders.
After receiving her B.A. in 2020, she continued her education at UMD, graduating with a Master of Public Policy in 2022. 
Prior to joining the coaching staff, Megan had been an instructor for Gymkana classes and camps for 4 years.
Kevin Merrick
Kevin was a member of the Gymkana Troupe from 2014-2018. While on the Troupe, he performed in Balancing, Free Movement, and Tumbling among other acts. Kevin was one of the proud recipients of the 2016 and 2018 best act awards given to Free Movement. During this time, Kevin also competed for UMD on Team Ninja Warrior: College Madness.
Kevin graduated University of Maryland in 2018 with degrees in Computer Engineering and Mathematics. Since then, he has trained at the San Francisco Circus Center under Xiaohong Wang, cheered with the Washington Wizards, and trained at Xtreme Acro in Bethesda, MD. Since volunteering with the Troupe in 2021, he is excited to continue mentoring troupers as a coach.