The Horowitz Center and the Institute for Healthcare Advancement (IHA) co-sponsor an annual Health Literacy in Action (HLiA) Conference for health literacy professionals and newcomers. The purpose of the conference is to connect ongoing health literacy research, policy, and practice
5th Annual HLiA Conference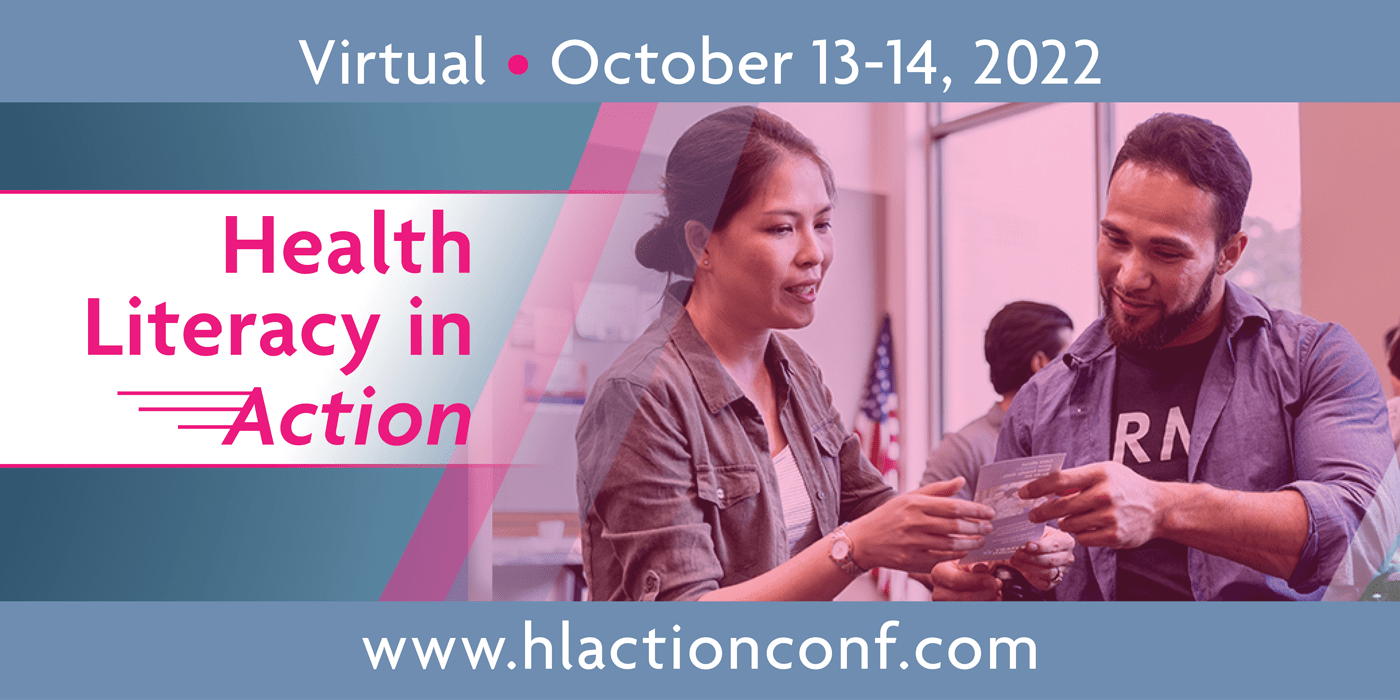 The Horowitz Center and IHA hosted the fifth annual HLiA conference virtually on October 13th and 14th, 2022. The conference featured a wide variety of sessions delivering actionable tools and skills for attendees to bring back to their workplaces. The Center organized several of the plenary and breakout sessions that featured UMD and Maryland-based projects.
The 2022 conference materials are available now!
Read below for information on how to access materials from the 2022 conference. You can still get continuing education credits by becoming an IHA Solutions Center member. Membership is free and grants you access to many health literacy resources.
Featured Sessions
The sessions below are those that the Center organized.
Alice M. Horowitz, PhD, MA, RDH and Cynthia Baur, PhD
Horowitz Center for Health Literacy
Maria D. Herrera
Spanish-Speaking Community of Maryland Inc. (La Comunidad)
Ms. Herrera will share her perspective as a service provider to low income and immigrant Spanish speaking families in Maryland. She will speak about their approach to promoting self-sufficiency and meaningful access to critical information about rights, services, and health.
Cynthia Baur, PhD
Horowitz Center for Health Literacy, University of Maryland School of Public Health
Leni Preston
Independent Consumer Voice on Health Policy
Delegate Joseline A. Peña-Melnyk, Esq.
Maryland House of Delegates, Democrat, District 21, Anne Arundel & Prince George's Counties
This session explains Maryland's health policy framework that led to the passage of a 2022 law designating the Horowitz Center for Health Literacy as the state's Consumer Health Information Hub. The law also translates the federal Plain Writing Act into state level plain language requirements for public health safety and social services benefits information. The speakers will describe the legislative
and consumer health advocacy and prior bills and laws that laid the groundwork for the new Hub and suggest options for other states and localities to consider.
List the main elements of the Maryland Consumer Health Information Hub
Describe key factors that help or hinder consumer health information policies
Analyze their own state and local environments for health literacy policy
opportunities
Devlon N. Jackson, PhD, MPH
Department of Behavioral and Community Health, School of Public Health, University of Maryland, College Park
Henry Willis, PhD
Social Policy and Practice, University of Pennsylvania; School of Social Work, Columbia University
Kevin Washington, PhD
Department of Psychology / Sociology Grambling State University
Stacey Little, PhD, MPH
Prince George's Healthcare Coalition
COVID-19 traumatic events such as death, illness, unemployment, stigma, in conjunction with more acts of anti-Blackness have exacerbated the mental health issues of Black America. The lived experience for many Black adults in the U.S. is a different worldview than other racial and ethnic groups, and it is a daily challenge managing the mental health challenges such as stress, anxiety, and depression that are rooted in racism, white supremacy, and oppression. While we hope for an equitable and just society, scientists, providers, and practitioners within the fields of health literacy, health communication, mental health, and public health must consider tools that can be leveraged to support the health and wellness of the Black community.

Digital health tools such as mobile health apps, telemedicine, health websites and wearables have become resources for individuals to find some support in managing their stressors that can be precursors to other mental health conditions. However, these tools are not always equitably tailored, accessible, and available for the Black community. Additionally, it is unclear if those within the Black community engaging with these tools, that their mental health literacy is increasing and as a result their mental health outcomes are improving.
Identify strategies to use digital health tools with the Black community to improve mental health literacy
Understand how digital health tools can contribute to exacerbating or eliminating mental health disparities with the Black community
Name at least 3 examples of digital health tools that Black adults could use for mental health and stress management
Jaime Murphy Dawson, MPH
Communicate Health
Melanie Schwarz, MA
Communicate Health
Empathy happens when you truly try to understand or experience someone else's emotions as if they were your own. It's about communicating to others that you see and hear them. That message can be incredibly powerful — and it can transform your health communications.
In this session, we'll dive into why empathy matters so much in the field of health communication and look at strategies for incorporating it into your writing. As public health and health communication professionals, we have a unique opportunity to advance health literacy by creating empathetic communications that are accessible, understandable, and inclusive — communications that establish a connection with our readers and foster trust. Let's explore how to do that.
Understand the science of empathy
Describe the role of empathy in health communication
Identify strategies for incorporating empathy into health communications, including using plain and inclusive language
Beth St. Jean, PhD
College of Information Studies, University of Maryland
Mega Subramaniam, PhD
College of Information Studies, University of Maryland
Xenia Hernández
Saint Paul Public Library
This session will discuss research and best practices on how public libraries adapted their existing community outreach and information services and created new resources, programs, and services during the COVID-19 pandemic. Panelists will share the different categories of outreach and services that public libraries implemented with and for their communities, the skills and knowledge that librarians had to quickly learn in order to serve their communities, the partnerships that they tapped or built in order to serve their communities, how such services promoted equitable access to health information and services, and the barriers that they faced as they were implementing these services. The panelists will share examples, best practices, and resources from the public library world that illuminate the strengths of this public institution in serving their communities at the time of a crisis.
Explain the different roles that public libraries played during the COVID-19 pandemic and how they helped to prevent and address health disparities within their communities.
Adopt the best practices that were implemented by public libraries with and for their communities into their own contexts.
Compare the barriers faced by public libraries to their own contexts of work and devise a plan to handle similar barriers in the future.
Monifa Vaughn-Cooke, PhD
MedStar Health National Center
Advancements in computing and digital health infrastructure have paved the way for revolutionary advances in the delivery of healthcare. However, patient barriers (health literacy, technological competence, healthcare access) may limit the ability to fully take advantage of these new technologies, further exacerbating gaps in health equity. This session will explore considerations for the design of a patient-centered digital health infrastructure, and strategies to support effective patient-facing technology implementation among healthcare providers.
Explore the breadth of current health information and digital health technologies to facilitate and enhance patient care.
Understand the heterogeneous characteristics of the patient population that directly impacts technology interaction.
Provide practical solutions for digital tool customization and evaluation of effective technological interventions.
Discuss future directions in digital health infrastructure innovation and its impact on the patient and provider populations.
Emily Jennings, MPH
Communicate Health
Ashley Ring, MPH
Communicate Health
Sharing information via social media is a popular health communication outreach tactic. After all, it's easy to use, it's inexpensive, and it can reach a massive number of people in a short amount of time — what's not to love? And with some simple strategic practices, you can take your social media outreach to the next level.

In this session, we'll take a deep dive into some of the most popular social media platforms and how best to leverage them. We'll discuss the importance of considering your audience when choosing platforms and tactics by sharing real examples from national health communication campaigns. Finally, we'll explore ways to evaluate social performance and measure success.
Explain the differences between popular social media platforms and how best to use them
Select social media platforms and tactics based on your priority audience
Identify different ways to measure social media performance and success
Rebecca Ledsky
Family Health International 360
Lisa Tensuan
Family Health International 360
Danielle Stahl
Washington County Health Department
Angela Deal, CHES
Charles County Department of Health
Judy  and Mike Schroeder
Program Participants
Many diabetes prevention programs focus on individual behavior changes in diet and physical activity. However, shopping for and preparing food, eating and physical activity are often social activities we do with family and friends who influence our thoughts, information and decisions that can affect our diabetes risk. FHI360, a non-profit human development organization, and the UMD Center for Health Literacy, teamed up to apply a health literacy lens and create a "family and friends" approach to the standard National Diabetes Prevention Program Lifestyle Change Program. This panel includes project staff, a lifestyle change coach, and a program participant to discuss their experiences and how a family-friend approach can make lifestyle change programs more accessible to more people at risk for diabetes.
Name the health literacy issues in a standard Lifestyle Change program. 
Describe at least 2 ways to bring health literacy insights to Lifestyle Change programs
Assess how a family-friend approach can be applied to chronic disease prevention programs