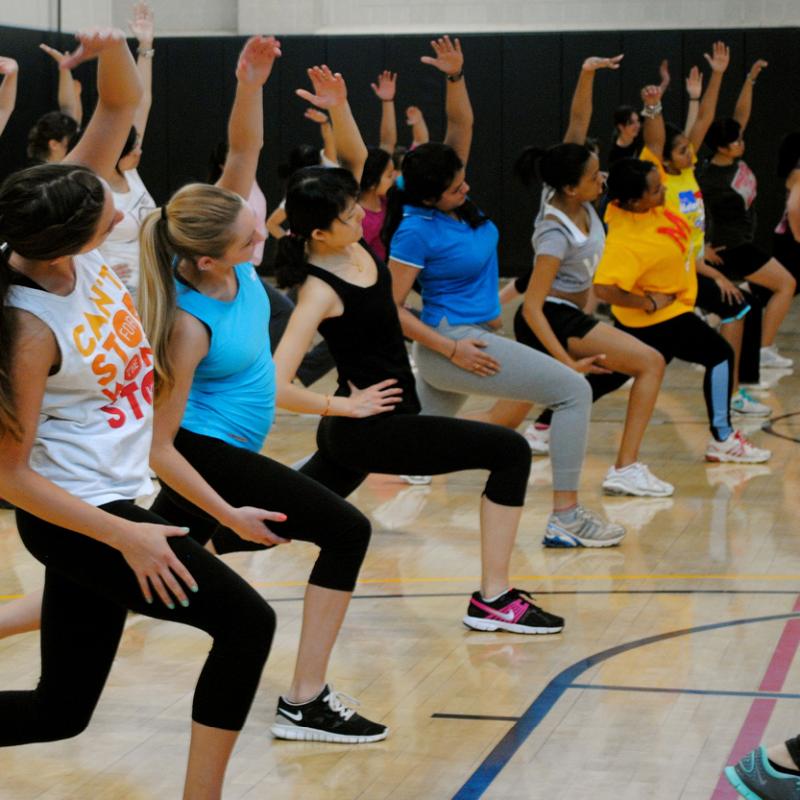 Improve public health through the promotion of active lifestyles
The MPH in Physical Activity prepares students to identify the benefits of physical activity and the barriers to being active for diverse populations and how to apply this knowledge to promote wellness and health equity. Our curriculum emphasizes evidence-based practice, health equity, policy advocacy, program evaluation and social justice.
Perfect for students interested in...
Reducing chronic disease associated with physical inactivity
Developing more equitable access to physical activity for under-represented populations
Exploring the physical and mental health benefits of being active in nature
The built environment and its influence on our physical activity behavior

Integrating physical activity into health behavior interventions

Promoting healthy aging 
Career Paths
Physical activity promotion and community planning in:

Non-profit sector (e.g., Special Olympics, Back on my Feet)
Government sector (e.g., President's Council on Sports, Fitness, and Nutrition; Parks and Recreation; Local and State Health Departments)

Corporate health and wellness

Transportation and neighborhood design
Program Overview
After acquiring a foundational knowledge in public health through the program's core requirements, students are encouraged to take electives across a range of disciplines to further explore the relationship between individual behavior, community organizations, societal structures, and physical activity. Throughout the coursework and practicum experiences, students will design, implement, and evaluate physical activity interventions in a variety of populations and community settings.

See all Kinesiology graduate student resources
1 of only 6
MPH programs in the country with a concentration in Physical Activity
The MPH concentration in Physical Activity is a 45-credit professional degree. Coursework consists of six public health core courses and eight courses in the physical activity and related cognate area, including the flexibility to select up to 12 elective credits.
All MPH students are required to complete a final project and at least one internship or applied practice experience. The 200-hour internship is designed to enable students to gain practical experience as professionals under conditions conducive to educational development.
Professional development experiences are also built into the curriculum so that students leave the program with such tangibles as a resume, a portfolio of public health related projects, job interview skills, and knowledge on the professional use of social media. 
View all required courses for the MPH, Physical Activity
Graduates with an MPH in Physical Activity will be able to:
Explain how physical activity integrates within the core areas of public health. Students will be able to describe how the promotion of an active lifestyle can be accomplished within the various disciplines of public health.
Apply evidence-based knowledge and understanding of the relation of physical activity to health and function across the life-span. Students will be able to explain how exercise impacts physical and mental health in both healthy and diseased populations. This understanding will include the physiological, psychosomatic, and psychosocial dimensions that underlie these relationships.
Design, implement, and evaluate physical activity interventions in a variety of populations and community settings. Students should be able to identify benefits and risks of physical activity interventions and formulate appropriate and measurable program objectives. Students will apply their knowledge of the built environment, as well as their skills in biostatistics and epidemiology, to evaluate the success of interventions.
Utilize a conceptual understanding of social, behavioral, and cultural theories to promote and implement physical activity programs and policies. Students will be able to describe how these theories impact participation in physical activity and apply them to optimize physical activity adoption and maintenance.
Evaluate the impact of physical activity and sedentary behavior at the community level. Students will be able to use ecological methods to evaluate the association between patterns of physical activity and sedentary living within a community and various pediatric and adult indicators of health in that same community. Students will be able to describe ways of altering the built environment of a given community in order to promote more active living.
Develop and utilize the ability to collaborate with public health professionals at local and/or federal levels to promote physical activity research, practice, and policy.
KNES600: Kinesiology in Public Health
KNES601: Epidemiology and Physical Activity
KNES602: Physical Activity Program Planning and Evaluation
PLCY699Q: Selected Topics Public Policy; Anti-Racist Community Development
PLCY688F: Topics in Public Policy; State, Local & Non-Profit Financial Management
HLTH625: Community Assessment through Qualitative Methods
SOCY656: Intersectionality and Population Health Disparities