May 2021 – May 2022
The University of Maryland (UMD) Prevention Research Center (PRC) is committed to research, service and training on mental health among LGBTQ+ communities.
The UMD PRC and the Horowitz Center for Health Literacy worked together to increase COVID-19 vaccine confidence and vaccination rates. The PRC received CDC supplemental funding for a multi-project, multi-population plan to contribute to COVID-19 vaccine confidence in Maryland (through local coalitions) and nationally (through LGBTQ community centers). 
We helped Maryland county health departments, Maryland Local Health Improvement Coalitions (LHICs), and LGBTQ-serving organizations in different parts of the U.S. implement behavioral nudges and remove barriers to getting the COVID-19 vaccine.
The UMD team also participated in the PRC national network and shared information and resources on COVID-19 vaccination. 
Project Goals
The goals of this project were to:
Increase COVID-19 vaccine confidence and remove access barriers to getting vaccinated for all Marylanders

Provide CenterLink member centers and LHICs with nudges, technical assistance, and relevant COVID vaccine information

Increase vaccine confidence nationwide by facilitating information sharing and collaboration between CenterLink centers and between LHICs
More Information
The Maryland project arm worked with voluntary community organizations known as Local Health Improvement Coalitions (LHICs) that accepted help with COVID outreach and communication. We worked with each LHIC group to identify specific communities with low vaccination rates and developed and implemented nudges to address vaccine access and confidence issues.
The LGBTQ-focused aims were conducted in partnership with CenterLink, a national member-based coalition that provides training and technical assistance to over 270 LGBTQ community centers in 48 states. The UMD team provided tools and technical assistance on strategies to increase vaccine confidence and access among LGBTQ people in communities around the US.
The Centers for Disease Control and Prevention (CDC) provided a PRC supplement grant from May 11, 2021 to May 10, 2022.
Research and materials reported in this summary were supported by CDC under award number 6 U48DP006382-02-02. Total CDC funds were $500,000. The content is solely the responsibility of the Horowitz Center team and does not necessarily represent the official views of CDC.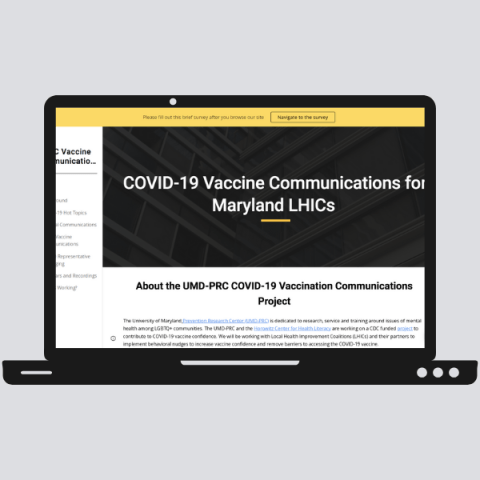 Project Team
The team was co-led by Dr. Cynthia Baur, Director of the Horowitz Center for Health Literacy and PRC Co-Investigator, and Dr. Jessica Fish, Assistant Professor of Family Science and PRC Deputy Director for Research and Evaluations. Dr. Sandra Saperstein, from the Department of Behavioral and Community Health led project evaluation.
Faculty Members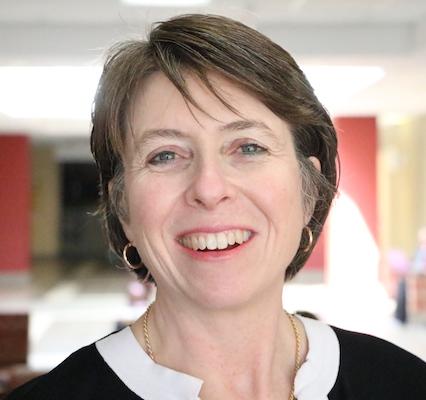 Cynthia Baur
Endowed Chair and Director, Horowitz Center for Health Literacy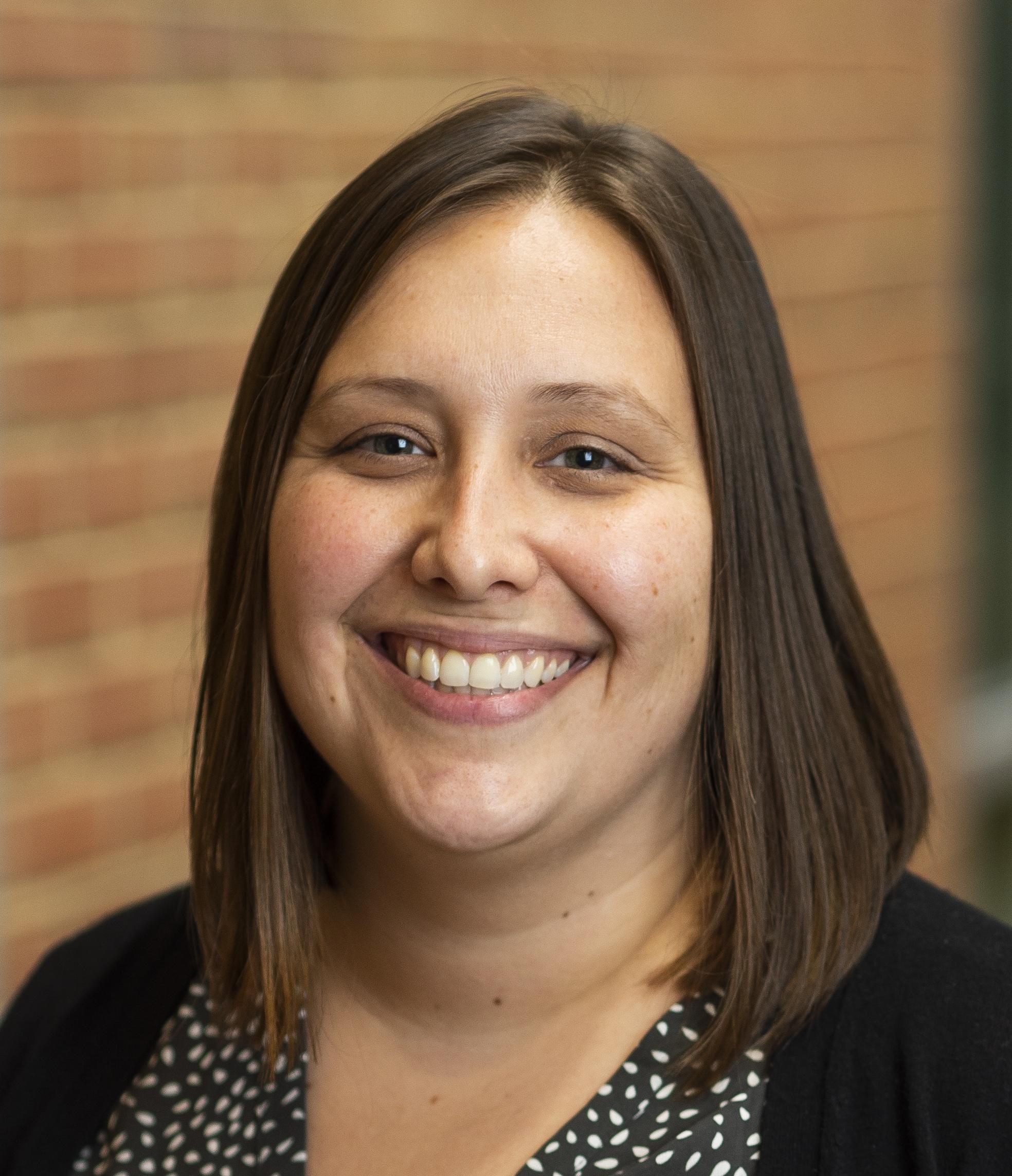 Jessica Fish
Assistant Professor, Family Science
Deputy Director for Research & Evaluation, UMD Prevention Research Center
Faculty Affiliate, Maryland Population Research Center
Other Team Members
Below are our team members' biographies written at the beginning of the project.
Rya Griffis (she/her)
Rya is serving as the project coordinator for this project, and is excited to increase vaccine access and confidence in Maryland! Rya recently graduated from UMD SPH with a Masters of Public Health in Health Equity.
Candela Vazquez (she/her)
Cande is a recent graduate from UMD SPH. She earned a Bachelor of Science in Public Health Science, and is excited to serve as project assistant for this project.
Leah Barnes (she/her/hers)
Leah is a recent graduate from UMD SPH. She earned a Bachelor of Science in Community Health with a minor in Technology Entrepreneurship, and will serve as a project assistant. She is looking forward to learning more about health communication strategies.
Colleen Berk (she/her)
Colleen is a senior at UMD SPH studying Public Health Science. She is excited to learn more about facilitating vaccine uptake through effective health communication while supporting the team as a student employee on the project.
Bani Saluja (she/her)
Bani is a PhD candidate in the Behavioral and Community Health department at UMD SPH concentrating in health communication. She is eager to explore how institutions, such as local health departments, can strengthen their perceived trustworthiness, which is likely to have a positive impact on COVID-19 vaccine uptake rates. 
Katherine Raymond (she/her/hers)
Katherine is a PhD student in the Behavioral and Community Health department at UMD SPH and a research assistant at the Center for Health Literacy. Katherine is interested in exploring the health literacy skills and health beliefs of Maryland caregivers of adults living with cognitive impairment or other intellectual disabilities as it relates to COVID-19 vaccine uptake and general care coordination.
Shira Laserson (she/her)
Shira is senior Behavioral and Community Health Major, specializing in Health Communications. She is excited to assist the team as Student Employee Evaluation Assistant. She will be supporting the COVID-19 vaccine communications team by conducting social media monitoring and listening for local counties' Facebook and Twitter accounts.
Julia Sloan 
Julia is a senior Behavioral and Community Health major. She is excited to support the team as a student intern on the project and explore health literacy techniques to help in communicating accurate health information to all populations.
Claire Mercer
Claire will be graduating with a B.S. in Community Health this spring. As an intern on the project, she is excited to support the team in improving COVID-19 vaccine messaging through clear communication strategies.
Methods
Rapid Assessment 
During the rapid assessment phase of the project, we conducted focus group interviews with CenterLink member center staff and executive directors. We also conducted assessments with our LHICs and their partners to get the status of COVID vaccine efforts in the counties. 
With this data, we crafted unique and hyperlocal nudges for the CenterLink member centers and counties. 
Implementation
The implementation phase began in early July 2022. In this phase, our team implemented the nudges the counties and CenterLink member centers identified as their preferred interventions to increase vaccine confidence and access.
Behavioral nudges are small interventions that attempt to guide a person into making the desired decision, in this case getting the COVID vaccine. Our nudges will take the form of positive reinforcement or suggestions that attempt to increase vaccine confidence or remove barriers to accessing the vaccine. We are designing these nudges as interventions that address barriers to the COVID vaccine. 
Evaluation
Throughout this project we conducted evaluations. We did environmental scans, and solicited feedback from our partners to evaluate our interventions. 
We conducted a mid-course correction in the winter. We understand that the COVID vaccine environment is constantly changing and that we need to remain flexible with changing attitudes and information. 
Related Resources: COVID-19 Vaccine Confidence, Examples of Nudges