Community Health Literacy
The Horowitz Center developed a model for community health literacy that reflects the interaction of people, organizations, and context, including culture. While recognizing health professionals are critical information sources, we focused on everyday health information needs, choices, and circumstances that happen outside the four walls of clinical care settings. This focus includes the vital role that media and technology play in shaping people's perspectives, knowledge, and experiences. 
Community-based Health Literacy Interventions 
Dr. Cynthia Baur led a team composed of Drs. Lourdes Martinez and Don Rubin, along with Nedelina Tchangalova, in conducting a scoping review of community-based health literacy interventions. The Roundtable on Health Literacy commissioned the paper, and Dr. Baur presented the findings at the July 19, 2017 workshop. The team concluded that although many researchers use the phrase "community health literacy intervention," the concept was not well-defined, and few projects were large enough in scope to involve many community members.
Visualizing community health literacy assets, gaps, and opportunities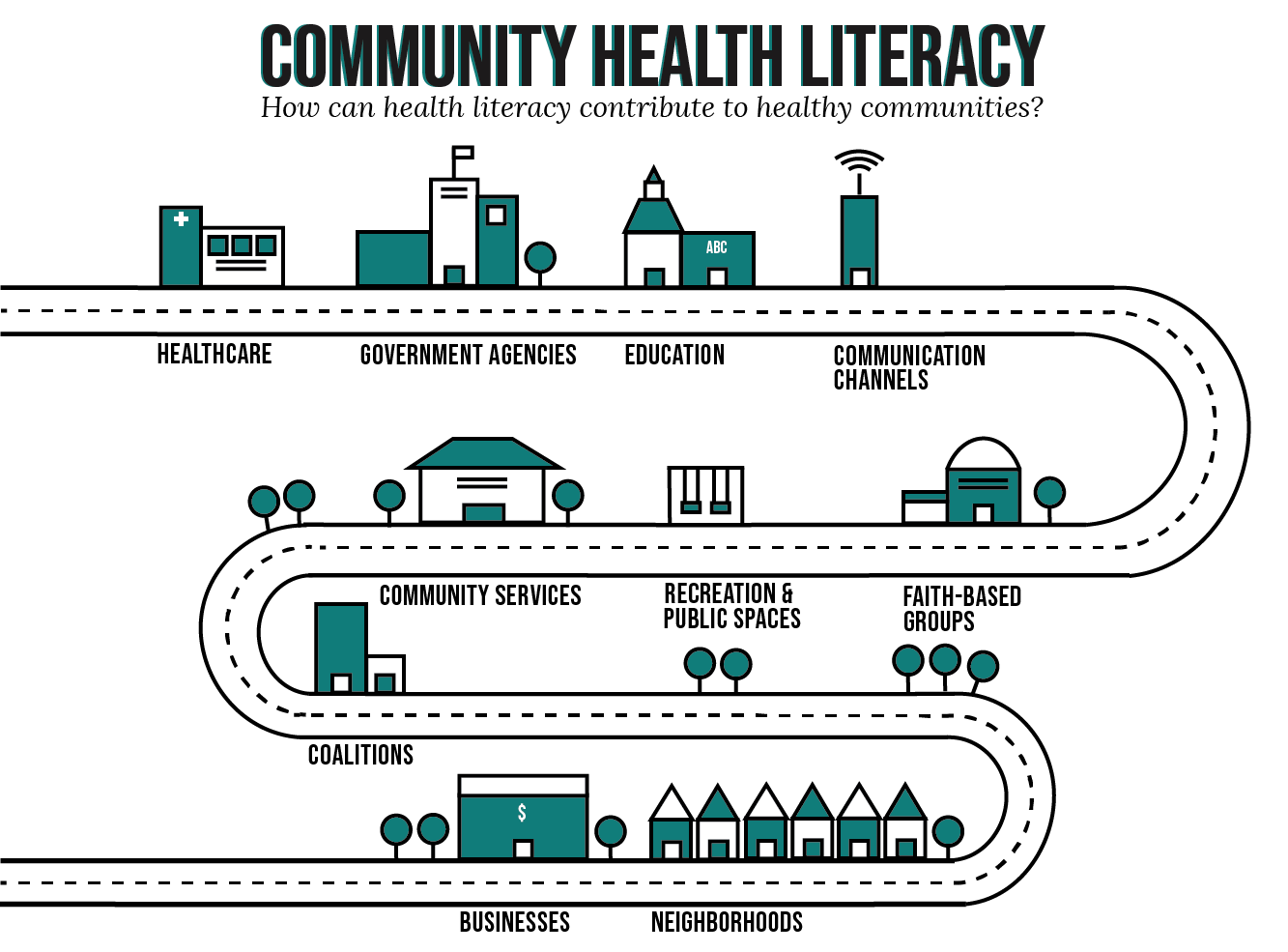 Communities typically have a few basic institutions, such as hospitals, schools, public safety, and places of worship. Some communities are richer in institutions than others and can provide greater variety and access to information and communication through newspapers, radio and TV channels, newsletters, and public libraries. A community approach to health literacy considers all the places and methods where residents look for and exchange information, as well as how easy or difficult it is for them. 
This figure captures many of the key community institutions that are important sources of and channels for information and communication. Describing the number, variety, and credibility of these institutions can contribute to a comprehensive view of health literacy assets,  gaps, and opportunities in a community.
Hospitals & clinics
Insurers
Healthcare providers 
Local & state health departments
Agencies in related areas, such as housing & transportation
Cooperative extension
Libraries
Social services agencies, such as WIC
Early childhood programs
Childcare
K-12 schools
Colleges & universities​​
Mass & social media
Digital devices
Internet and mobile phone services
Local "water cooler," such as a diner, park, or other places where people exchange information in-person 
Churches
Synagogues
Temples
Mosques
Charities
Non-profit organizations
Social services agencies (voluntary)
Adult education and English language programs
Philanthropy​​
Neighborhood & voluntary associations
Small & large employers
Employees ​​