Welcome!
Are you looking for a way to connect with your fellow public health-minded students? Do want to serve the community? Volunteer? Be the change? Then Students Engaged in Public Health (SEIPH) is for you! SEIPH is the student organization of the Public Health Science program. Our mission is to "connect, lead, serve and network." If you have a passion to make some noise about a public health issue, SEIPH is the place to do it. We have chapters at both the Shady Grove and College Park campus.
SEIPH Board 2023 
President: Nithya Rao
Vice President: Ayomide Lawrence
Treasurer: Aneesh Singh
Marketing and Recruitment Chair: Luarys Atanacio
Event Coordinator: Neha Mupparapu
Secretary: Emily Nguyen
Committee Chairs: Claudia Quach, Riya Patel, Shachar Gazit-Rosenthal
SEIPH Welcome Letter 
Hello!

We are Students Engaged with Public Health (SEIPH), a student organization at the University of Maryland, College Park. Our mission of  "connect, lead, serve and network" and goals of building community among students passionate about public health, serving the College Park area through public health outreach, providing networking opportunities for members, and developing leadership and management skills are done through several public health initiatives, events, and fundraisers. The newest feature of SEIPH is our three committees, dedicated to mental, environmental, and minority health. These committees focus on different aspects of health and create projects relating to these topics. If you are passionate about public health and would like to know more about SEIPH, please join us at our next meeting or event! 

Sincerely, 
SEIPH Executive Board 2023
OP/ED from Jernelle John, SEIPH President 2020
Maternal Mortality & Racial Disparities 
April 24, 2019
By: Jernelle John, SEIPH President 2020
Maternal mortality, the death of a woman while pregnant or within 42 days after pregnancy, is a prominent public health concern (World Health Organization [WHO], 2019). The maternal mortality rate of 26.4 maternal deaths per 100,000 live births in the United States is higher than in most other developed countries (Martin & Montagne, 2017). Moreover, the maternal mortality rate in Maryland is typically higher than the national maternal mortality rate (McDaniels, 2018). Health equity is a significant risk factor for maternal mortality rates as black women are 2.7 times more likely to die from a pregnancy-related complication as compared to white women in Maryland (McDaniels, 2018).
While the maternal mortality rate in the United States is still increasing, initiatives to reduce the rate are widespread. Earlier this spring, I had the privilege of attending the 2019 Association of Maternal and Child Health Programs (AMCHP) conference. There, I was able to attend a presentation from one of the many advocates addressing maternal mortality. Charles Johnson, son of television judge Glenda Hatchett and father of two young boys, lost his wife, Kira Johnson, in 2016 after she underwent a routine C-section at Cedars-Sinai hospital in California. Charles shared his story of how Kira began internally hemorrhaging shortly after giving birth. He explained the lack of immediate action practiced by the Cedars-Sinai medical staff after the clear signs that something was wrong. Seven hours after the initial signs of complications, Kira was finally taken to the operating room. It was there that she died due to the slow response from the medical team. Charles started his own national nonprofit campaign titled 4Kira4Mothers to prevent similar tragedies from happening to other families. His campaign focuses on establishing improved maternal healthcare regulations and policies (4Kira4moms, 2019). Upon hearing his story of how he used his tragedy to lead to action, I was inspired to share this message with all of you. To learn more about his inspirational story and campaign, I encourage you to explore the 4Kira4Mothers campaign website. 
While maternal mortality disparities have been prevalent for a long time, many are still unaware of them. As future public health leaders, I hope you will feel encouraged to increase awareness of this topic. Knowledge is the first step to change.
President: Nithya Rao 
My name is Nithya Rao and I am a Public Health Science Major with a minor in History. I am a Sophomore from Ellicott City Maryland. A fun fact about me is that I have a black belt in Tae Kwon Do. I choose PHSC because I love helping my community and making sustainable changes In public health. Within Public Health I am specifically interested in infectious disease and health disparities particularly related to the HIV epidemic in southern and eastern Africa. I am pre-law and I would like to get an MPH and do Teach for America before attending law school. Hopefully five years from now I will be starting law school with knowledge of public health and American education policies. My goal for SEIPH this semester is to host more outreach events and club wide activities.
Vice President: Ayomide Lawrence
My name is Ayomide Lawrence and I am a Community Health major. I am a current sophomore from Baltimore, Maryland and a fun fact about me is that I love to sing and was in choir for almost 7 years! I chose Public Health because of my origins and aspirations. My family is originally from Nigeria and although formal colonization ended years ago, the effects of it are still seen today. Because of the devastating effects of colonization, a lot of African, Latin American, and other previously colonized states do not have infrastructure that is on the same level of their past colonizers. I want to be a part of decolonizing health in Africa and Latin America and I believe public health is a great start in addressing those issues. My public health interests are global and minority health and my future career aspiration is healthcare administration and policy in West Africa. Five years from now, I will be advocating for the rights of black and brown lives internationally and traveling the world. My goals for SEIPH this year are to do more outreach and plan more events for the members of SEIPH. 
Secretary: Emily Nguyen
Hello! My name is Emily Nguyen and I am a freshman Public Health Science major from Silver Spring, Maryland. A fun fact about me is that I love to travel and swim. I chose Public Health because I was interested in the process of how to control and prevent infectious diseases within a population. I plan to pursue a career in research regarding noncommunicable diseases and genetics. In five years from now, I hope that I have gained thorough research experience and I am making my way towards becoming a federal research scientist while completing my Masters in Public Health Science focused in Epidemiology. My goal for SEIPH is to create a community promoting awareness about the abundant public health issues and informing others about how they can be a part of the mission to improve the wellbeing of our society.
Treasurer: Aneesh Singh
Hi my name is Aneesh Singh and I am a Neuroscience major. I am a freshman from White Marsh Maryland. A fun fact about me is that I have roller skated for almost 8 years. Even though I am not a public health major, I was drawn to the community service aspect of this organization and how we're able to work in teams to address public health issues. Public health also excites me because you get to see a diversity of perspectives and broaden your outlook of the world. Five years from now I hope to be in medical school, hopefully specializing in either neurobiology. Some goals I have for SEIPH is to plan engaging events that generate high interest and attendance. I also hope to see more people take interest in public health as it is one of the most relevant majors. 
Event Coordinator: Neha Mupparapu 
Hi my name is Neha Mupparapu and I am a sophomore from Baltimore MD. I am majoring in Behavioral and Community Health with a minor in Health, Humanities and Medicine. I chose behavioral and community health because it's a blend of psychology and public health and because it allows me to understand a diverse perspective on how to improve community health. I also want to learn about health disparities and learn about regional specific illnesses to improve conditions. I am also premed and I would like to become a pediatric psychiatrist in the future. For SEIPH as event coordinator I hope to plan more events that involve our community.

Marketing & Recruitment: Luarys Atanacio
Hello! My name is Luarys Atanacio and I'm a sophomore public health major student with a pre-med track from Baltimore county. A fun fact about me is I have a dog named Mercury who is named after the lead singer of the rock band Queen! I chose public health sciences because I was interested in learning more about how we can improve the health of the community we live in and promote those lifestyles. My current career aspirations with my major and track, I would like to go to med school to further my studies and hopefully become a doctor. 5 years from now I'll hopefully be close to finishing medical school and have traveled around the world many times. My goals for SEIPH is to currently have our members be engaged more with our new fresh ideas and hope to expand wider in the community. 
Minority Health Committee Chair: Riya Patel
Hello! My name is Riya Patel I am a senior Public Health Science major with a minor in Humanities Health and Medicine from Prince George's County Maryland. A fun fact about me is that I studied abroad in Karnataka, India this past winter taking a course that explored the contrasting public health priorities in the U.S. and India. I chose PHSC because I wanted to make a difference for people on a community level and prepare myself for a future in healthcare. I plan to attend graduate school for a Masters in Healthcare Administration. In the near future, I see myself starting a career in hospital administration and management in a big city. My goal in SEIPH is to help make our committee member's ideas come to life by planning meaningful events that make an impact on people's lives.
Mental Health Committee Chair:Claudia Quach 
Hi, my name is Claudia Quach and I am a senior public health science major. I am from Silver Spring, Maryland. A fun fact about me is that I enjoy doing arts and crafts and have been learning how to paint. I chose public health science because I want to work on disease prevention and creating interventions for communities/populations. I am interested in public health issues pertaining to mental health, specifically access to mental health in communities of racial and ethnic backgrounds and low socioeconomic status. In five years, I hope to be traveling and doing research on the global impacts of mental health and infectious disease. My goals for SEIPH is to engage students from all majors, spread awareness on the importance of public health, and help organize impactful events. 
Environmental Health Committee Chair: Shachar Gazit-Rosenthal
Hi there! My name is Shachar Gazit-Rosenthal and I am a senior Public Health Science major and Public Leadership minor. I am also a first year MPH student in the accelerated BS/MPH program, with a concentration in Behavioral and Community Health. A fun fact about me is that I'm a voracious reader and read about 100 books every year! I chose public health science because I am passionate about environmental health and facilitating campus community involvement towards bettering the environment as a whole. I'm interested in the health of communities and how we can improve it by utilizing factors such as the social determinants of health, including topics such as disease prevalence and prevention, chronic illnesses, and interpersonal relationships within pillars of the community. Five years from now, I hope to be working for either the CDC or the FDA and helping to make a difference in the world of public health. My goals for SEIPH include working towards remediating environmental concerns and injustices on campus, as well as working to better the natural and built environment of College Park in which we reside.
Eligibility and Membership Requirements
SEIPH is open to all students with an interest in public health science and putting the theories and ideas they learn in class into action while serving the greater College Park community.
For more information contact Jessica Moore-Solorzano, SEIPH's Faculty Advisor, at jms15@umd.edu.
College Park
For more information contact Jessica Moore-Solorzano, SEIPH's Faculty Advisor, at jms15@umd.edu.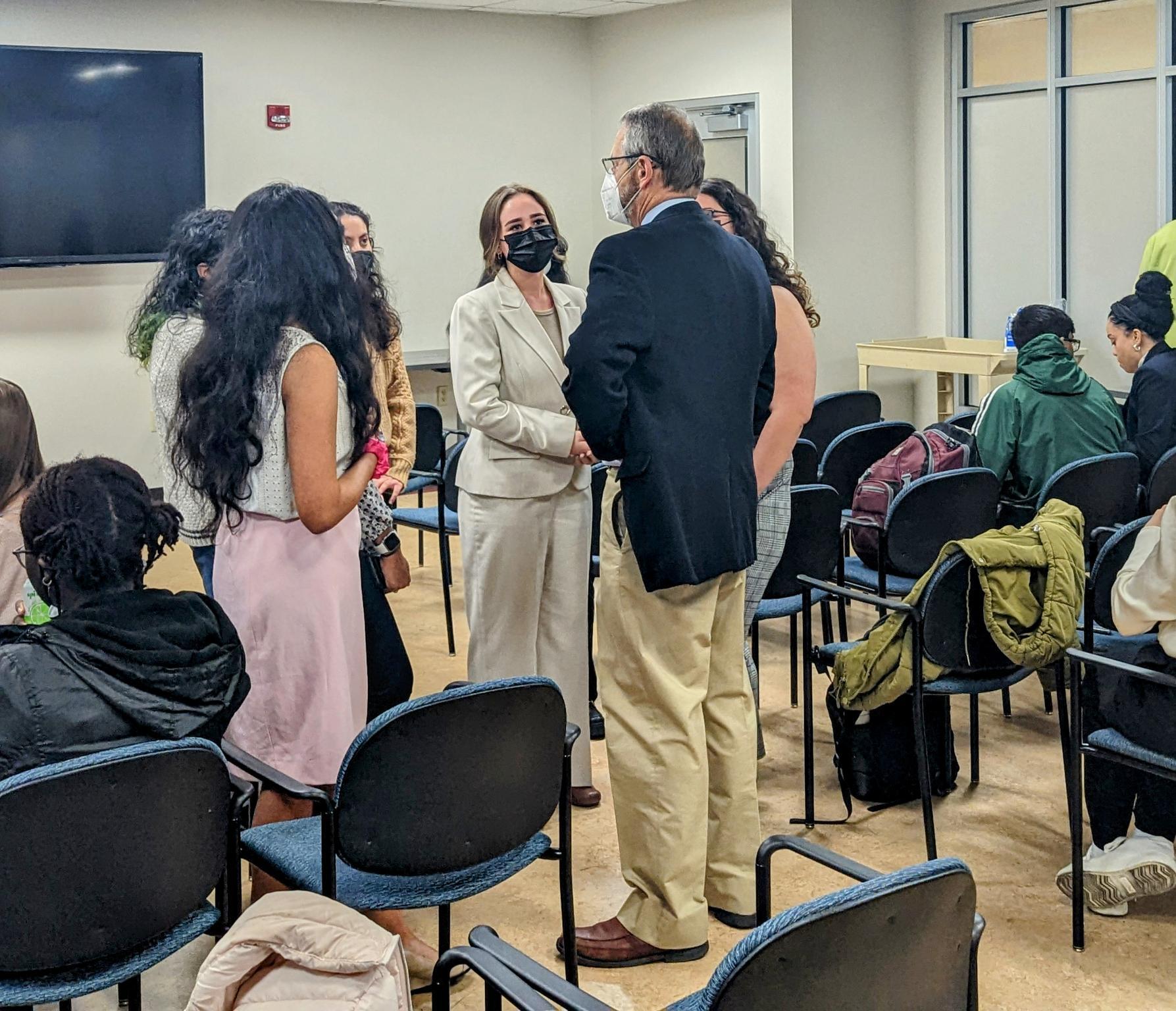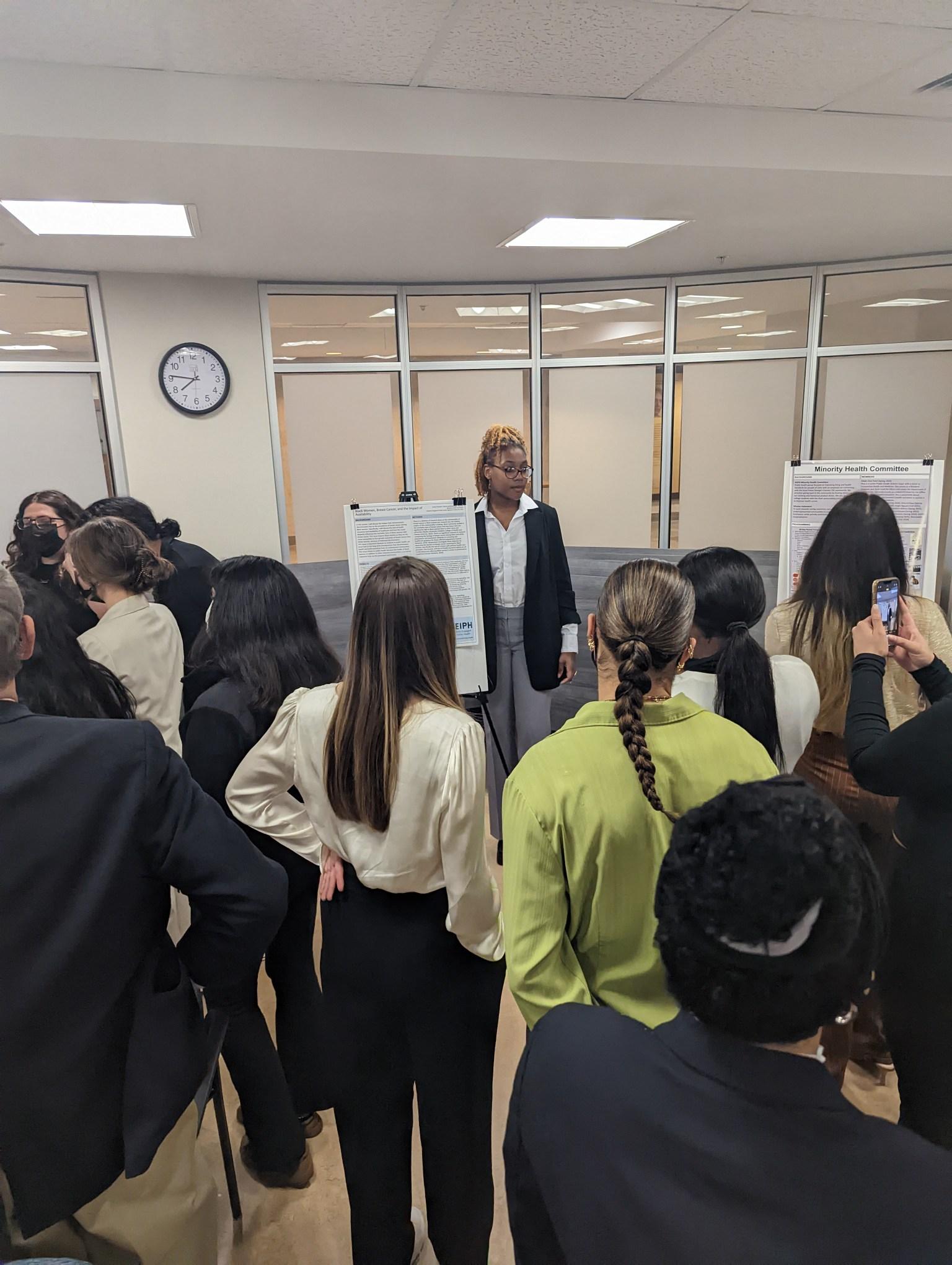 Pictures shown above include Dean Boris Lushniak speaking with members at SEIPH's annual conference.