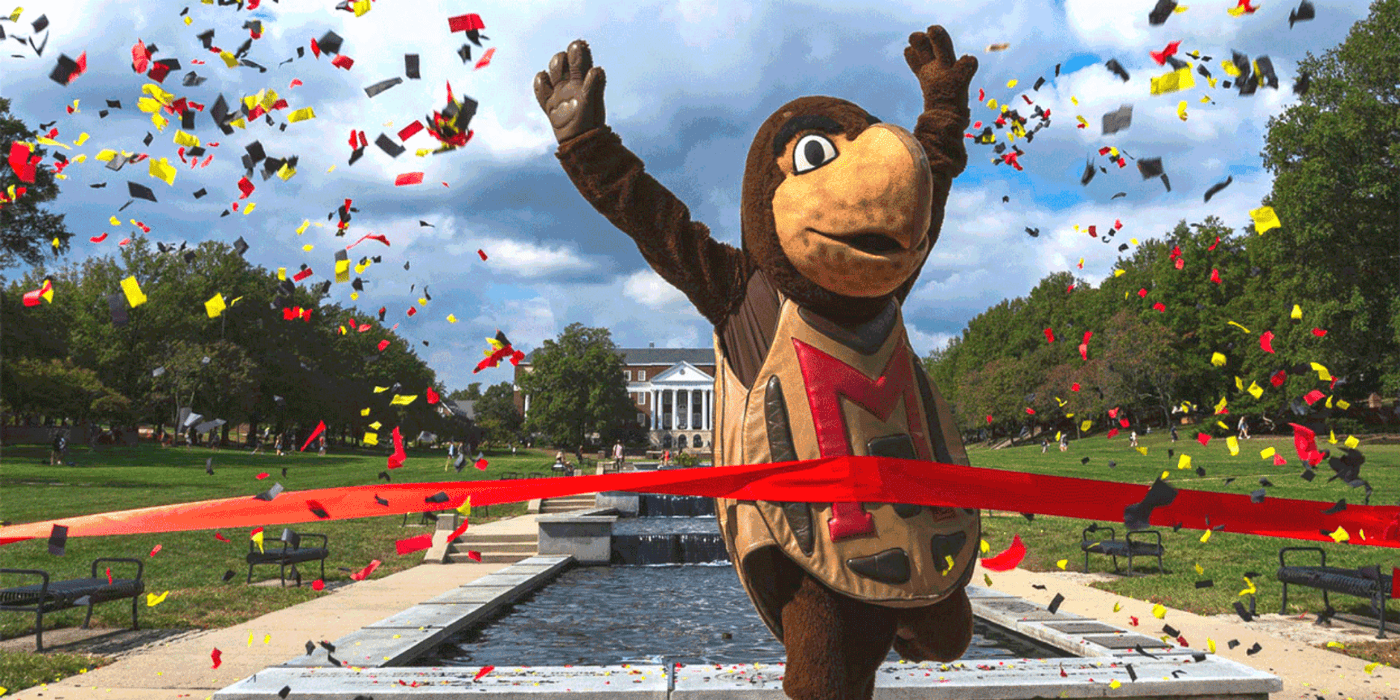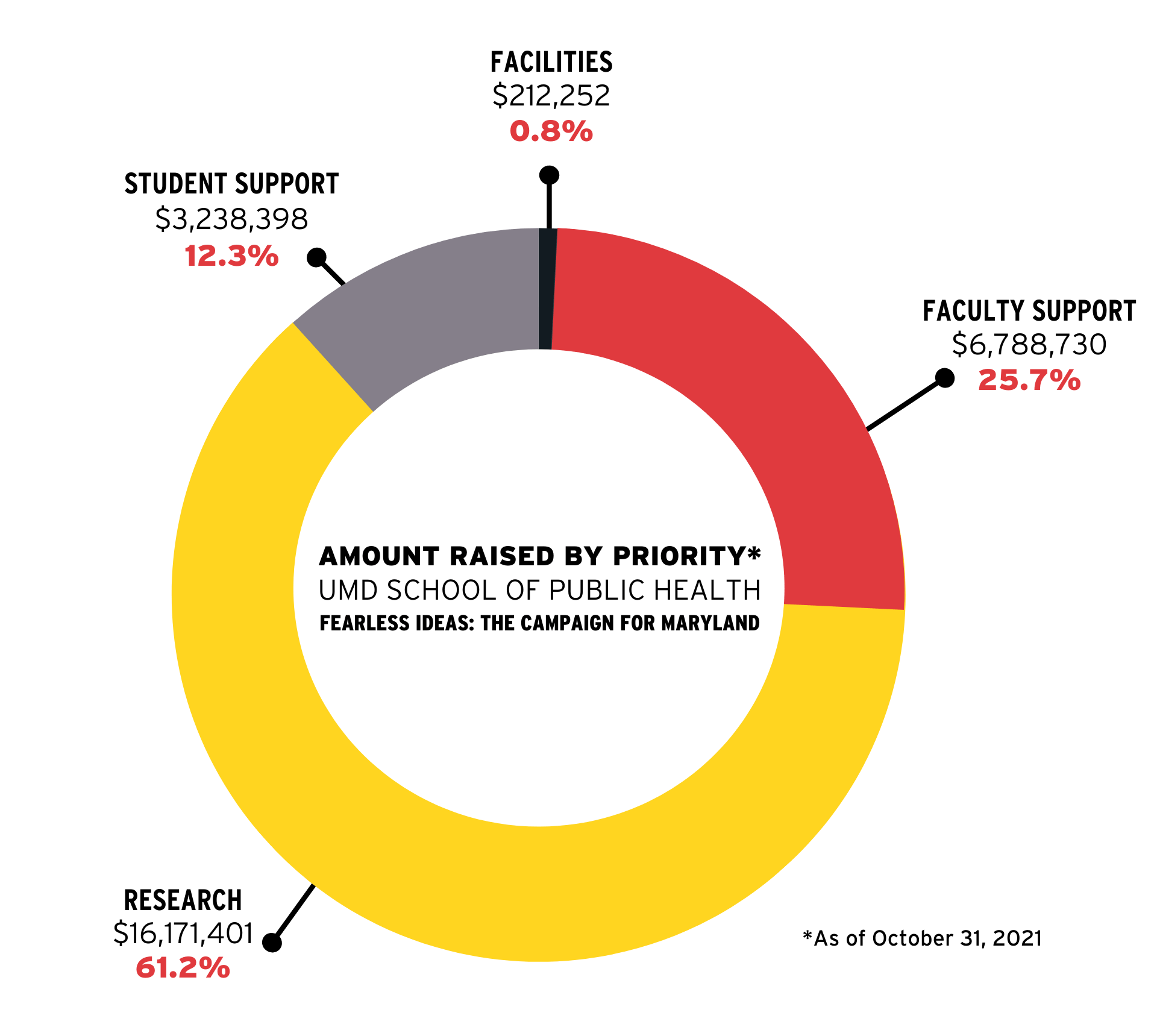 The University of Maryland School of Public Health has surpassed its fundraising goal for the University of Maryland's campaign, Fearless Ideas: The Campaign for Maryland. The school's record $26.3 million raised reflects a 188% increase from our original goal of $14 million for the period July 2014 through December 2021. The support has bolstered student scholarships, grown the Global Health Initiative, accelerated the creation of the school's Office of Public Health Practice and expanded faculty research in critical areas such as cancer disparities, environmental justice and infectious disease prevention. 
During the campaign, which launched publicly in 2018, the School of Public Health has received several significant gifts of over $1 million and can even boast the most successful Launch UMD campaign in history. Earlier this year, Gymkana's "Reload the Truck" launch campaign surpassed their goal by 203%, with $46,185 raised from 104 donors!
"Every dollar donated has been extremely important for our school's momentum," said School of Public Health Dean Boris Lushniak.
"From Giving Day triumphs year after year to the successes of the Public Health Beyond Borders and Gymkana Launch UMD campaigns, we are grateful for the generous support that has allowed our school to grow and advance at a critical time for public health."
Over the past several years, the School of Public Health has experienced rapid growth in student enrollment (65% increase in incoming freshman students and a 35% increase in new graduate students since 2019) and launched several new academic programs to meet workforce needs. SPH experts have been at the forefront of the response to the coronavirus pandemic and helped raise the school's visibility and reputation (the 2021 US News ranking placed the UMD SPH 20th among all schools and programs of public health).
To commemorate our successes and share how each donation, no matter how small, has made a big difference, we've pulled together some highlights and student appreciation statements on behalf of just a fraction of the contributions to the campaign over the last seven years. These examples demonstrate the exponential impact that philanthropy will continue to have on the School of Public Health going forward.
Education
The School of Public Health has received several momentous gifts during the campaign that are helping to drive our educational efforts, including:
In addition, the campaign is helping to support dozens of other student scholarships that help School of Public Health students remain in school and continue to pursue their public health education. 
Read just a few of the ways that the scholarships—and the donations that continue to sustain them—are helping our students continue their education in their own words.
"My educational and research pursuits would not have been possible without the Jeanette Spier Beavers Endowed Memorial Scholarship and the School of Public Health. Thank you for providing me the opportunity to promote my professional development as a therapist, who is determined to give back to the field as both a clinician and a researcher."
"Thanks to Irene's Scholarship, I will be able to take additional classes that will take me closer to graduating with a bachelor's in Public Health Science. My main goal through my educational path is to be the first college graduate in my family. I am a mother of two smart and loving children. And I want to open that door for my children and show them that education is forever regardless of where life takes you."
"The scholarship from the Maggie Bridwell Foundation was a huge reason why I was able to graduate last December. While completing my final semester of school, I was interning at Capital Caring Health (CCH), but my position was unpaid. I did not want to choose between school and finding a job to pay my bills when I was so close to graduating. When I received the scholarship, I was able to pay my rent and other expenses while I found part-time employment...I am eternally grateful and have plans to one day pay it forward."
Research
During the campaign, generous donations from individuals, foundations and other organizations have helped our faculty researchers study some of the most pressing issues of our time. These gifts are an important supplement to the competitive research grants from federal agencies that fund much of our faculty research portfolio. Some notable gifts include:
Living in Pink's gift honoring Michele Conley '84 supports Dr. Cheryl Knott's work on early cancer prevention workshops in local African American churches and Dr. Cher Dallal's research on understanding how risk factors affect biological mechanisms underlying breast cancer risk and survivorship. 
A $2.5M gift from the Flu Lab is helping to advance Dr. Donald Milton's work to study influenza and how it could interact with the virus that causes COVID-19. 
Generous donations from multiple donors are enabling the Annual Environmental Justice Symposium to bring together environmental justice advocacy groups, researchers, scholars, legal professionals and policymakers to discuss how climate change has affected our communities. 
Other fellowships and awards like the Rima E. Rudd Dissertation Research Award in Health Literacy established by Dr. Alice Munkhoff Horowitz '92 PhD and the James H. Humphrey Published Research Endowment established by Joy N. Rose '75 are helping student researchers produce impactful research. 
Read words of appreciation from just a couple of our graduate students who have received fellowships and awards to support them in completing their dissertations or conducting research.
"Thank you for the funding that has helped make this research project possible! The funds will assist me greatly in the research project: Racial Differences in Vascular Function Following Acute Intermittent Hypoxia."
"I find the idea of preventing health issues before they arise to be very motivating. Some of my specific interests are environmental health and how it plays a role in the health of humans, and how preventable diseases disproportionately affect minorities. In the future, I see myself working with a group of like-minded learners to create something to help our society function in a more sustainable way, perhaps in the form of a start-up or a non-profit organization."
Partnerships

Donations to the campaign are enabling us to advance our mission to promote health and well-being for all, including:
Additionally, generous donations and research grants for the Maryland Center for Health Equity are helping provide ​​free dental services to our underinsured and underserved communities through the Mid-Maryland Mission of Mercy and Health Equity Festival, while Black barbers and stylists around the country are helping to fight COVID-19 and promote vaccination through HAIR's COVID-19 Prevention and Mitigation Campaign. 
Read about the activities of a few School of Public Health students with demonstrated excellence in social action.
"In the last two years, I lost a family member to Alzheimer's disease. I also lost two other family members whose health conditions were exacerbated by the emotional and physical toll of caring for someone with Alzheimer's disease. This experience has fueled my long-term research goal of developing a comprehensive understanding of how lifestyle factors affect the aging brain's physiological and neurocognitive process...I hope that in doing so, one day, other families will not have the same experience mine did.
"I am a part of the organization Public Health Beyond Borders where I am working with other students to send educational materials about good health practices to our partner community in Sierra Leone, West Africa. I am an active member of the university's chapter of the National Society of Leadership and Success aimed to help students achieve personal growth, career success and empower them to have a positive impact in their communities. In addition, I volunteer as a tutor to recently resettled refugee youth with the Peer-to-Peer program at the university."
We are tremendously proud of surpassing our goals for the campaign, but the need for philanthropic investment still stands—stronger than ever. 
"The great thing about the gifts made during this campaign is that so many will have a lasting impact thanks to their established funds and endowments that anyone can donate to," said Dean Lushniak. 
"So if any of the funds resonated with our supporters, they can choose to make a gift at any time."
Through the continued generosity of our SPH family and friends, we can keep advancing our efforts to promote and protect the health and well-being of all people throughout our local and global communities.
Categories
Philanthropy
Research
Students
Departments
School of Public Health
Department of Behavioral and Community Health
Department of Family Science
Department of Epidemiology and Biostatistics
Maryland Institute for Applied Environmental Health
Department of Health Policy and Management
Public Health Science
Department of Kinesiology